Making homemade Irish Cream is a yearly holiday tradition for me.  I've been making it for about 6 to 7 years and my friends and family have come to expect their yearly supply.  This year marked my highest production year, but as always I had a great time making it and have an even better time sampling it.  My recipe came from a close family friend Ann Mahony whose is as Irish as you can get and as such is pretty much an expert.
Annie's Irish Cream
[Ingredients]
1 3/4 Cups Irish Whiskey (Jameson's)
14 oz Sweetened Condensed Milk (one can)
1 Cup Whipping Cream
4 Eggs (or equivalent egg beaters)
2 Tbsp Chocolate Syrup
2 tsp Instant Coffee
1 tsp Vanilla Extract
1/2 tsp Almond Extract
[Directions]
1) In a blender blend all ingredients until smooth.
2) Store in a refrigerator for up to 1 month.
[Notes]
This recipe yields about 5 cups of Irish Cream.
Some comments on the ingredients and directions.  As you can see from the picture above I use real eggs rather than egg beaters.  I think the final flavor and texture is better.  However, if you are at all concerned about the possibility of salmonella from eggs then by all means use the pasteurized egg beaters, the finished product is still wonderful.  I use dark chocolate syrup.  It gives a richer more chocolaty flavor.  Finally, the process.  If you're going to make one batch, then certainly the blender is your best and easiest option.  If you're making more (12 batches in my case) then I'd suggest you try my method.  Combine the ingredients for up to four batches in a large stock pot.  Then use a stick blender to combine the ingredients until everything is combined and very smooth.  This year I made 12 batches which yielded about 13.5 liters of Irish Cream.  I figure it should last my friends and family about 2-3 days.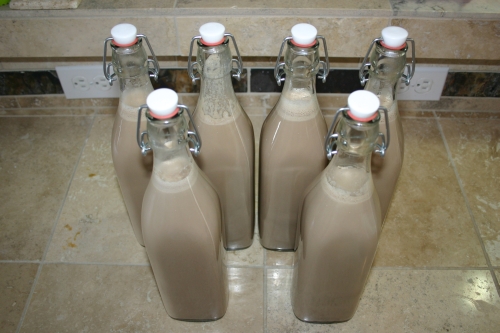 In case you're interested the bottles I use are one liter swing top glass bottles from eBottles.  These bottles work particularly well because they seal tightly and can be cleaned and reused.
But, I'm guessing you're not as interested in the bottles as much as the contents, so how about a side by side comparison?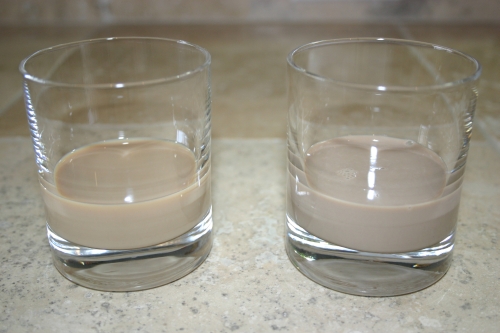 Baileys
The smell is somewhat non-distinct and has a bit of an alcohol bite.  The flavor is very creamy and a little over sweet for my taste.  It's also very homogeneous.  You don't get any specific flavors coming through, just the standard Baileys flavor you'd expect.  The after taste is still quite sweet and the creaminess coats your tongue for quite some time.
Homemade
In the smell the coffee comes through in a very pleasant way.  The flavor is still creamy and sweet, although less sweet than the Baileys.  The coffee and chocolate flavors are quite distinct and add nicely to the overall flavor profile.  In the after taste you get a bit of the almond extract coming through and the coffee flavor lingers, though neither in a bad way.  The homemade Irish Cream also doesn't coat your tongue as much as the Baileys.
Verdict
If you're looking for a shelf stable Irish Cream that is good for mixing then I would suggest the Baileys.  Although, I'd suggest you cut the Baileys with something, either a bit of water from shaking it with ice, or coffee or add it to a cocktail.  The homemade Irish Cream on the other hand is great for both mixing and sipping alone.  There is no need to cut this Irish Cream with anything and since it needs to be kept refrigerated it is ready at the perfect temperature any time.  Overall the homemade Irish Cream is well worth the additional effort and is a great item to have in your fridge over the holidays.
I hope you've enjoyed this week of Irish Cream.  I certainly have.  And a special thanks to Ann Mahony for the wonderful Irish Cream recipe.  I plan to making it each year well in to the future.