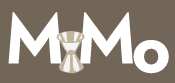 This month's Mixology Monday is being hosted by none other than Rum Dood himself.  As you may recall I've been espousing Dood as the master of all things rum for the last few days and thanking him heartily for his suggestions on the topic.  Seems only logical that this month's topic would be rum.  Although the logical choice, it is in fact wrong.  You see, they've already had Mixology Monday: Rum nearly a year ago.  So, the topic was chosen to be ginger instead.
When I saw this month's topic I knew I had to mix up something tasty.  I absolutely love ginger, but what to make?  I already covered ginger beer back when I covered the Dark and Stormy, so that was out.  I've talked a bit about ginger ale specifically when making a Pimm's Cup, so that option didn't sound good either.  But one that I hadn't experimented with was ginger infused simple syrup.  So, I decided that's what I'd base this month's submission on.  But as I was mulling this idea over in my head another idea slowly began to form, what about a ginger five spice simple syrup?
If done right I'd end up with a syrup that had both the spicy flavors of the ginger combined with the distinctly asian flavors of the five spice.  Well do it up right I certainly did.  Although, truth be told, my first batch didn't have nearly enough ginger so I ended up giving it a second go.  The recipe below is for the second go and the ginger flavor is imense and wonderfully tasty.
Ginger Five Spice Simple Syrup
2 cups Water
4-6 oz Fresh Ginger Root
2 Tbsp Five Spice Powder
Demerara Sugar

1) Wash ginger and slice very thin
2) Simmer all ingredients on low for 30 minutes
3) Allow mixture to cool for 10-15 minutes
4) Strain off solids
5) Measure remaining liquid (about 1 cup in my case)
6) Add an equal amount of demerara sugar
7) Stir until dissolved
[Note] You can add 1 oz of grain alcohol to make it more shelf stable
The resulting syrup is a rich brown and is as fragrant as can be.  Now I had a solid ingredient but what recipe to use it in?  My first go was in a Rye Old Fashioned.  The resulting drink was good, but not great.  Back to the drawing board.  Then it hit me.  What about a Daiquiri with some nice gold rum?  It sounded delicious and the rum would certainly make the Dood happy.  Yes, my friends, that was the answer.
Ginger Five Spice Daiquiri
2 oz Appleton Estate V/X
1 oz Lime Juice
1/2 oz Ginger Five Spice Syrup
Candied Ginger for Garnish

1) Combine ingredients in a shaker with ice
2) Shake until well chilled
3) Strain into a chilled cocktail glass
4) Garnish with candied ginger
The complex flavor profile of this cocktail is tremendous.  The rum, ginger and five spice really play together very, very nicely.  You first get the five spice flavors hitting your palate followed by the subtle hints of oak in the rum.  Next comes the ginger flavor which plays through all the way to the after taste where you get a pleasant hit of the ginger's spiciness.  You definitely want to choose a gold rum for this drink to get those light woody notes.  Another thanks to the Dood for the suggestion of Appleton Estate V/X.
Hope this entry in the MxMo annals has inspired you to mix up some interesting syrups of your own.  Let me know how they turn out, I'm always looking for interesting drinks.