Posted by Reese
on 2014-09-10 @ 06:47pm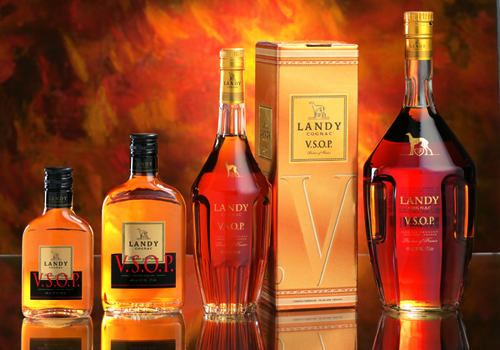 Cognac is a classic cocktail staple and Landy is a strong contender for the only Cognac I need in my bar at all. Â Landy has a light amber hue but the nose is where it really starts to get interesting. Â Stone fruits and specifically black cherry are the stars with vanilla, maple and spice notes playing the chorus. Â The aroma is tremendously smooth with no notable alcohol zing.
The flavor follows hand in hand with the stone fruit flavors. Â Black cherry continues to shine the brightest with sweet notes of vanilla and spice bringing up the rear. Â The finish is medium-long with a great fruitcake flavor of dried fruit, subtle spice and lingering sweetness.
We wanted to pair this Cognac with a classic cocktail. Â Having some extra sparkling wine around we settled on the Stiletto from The Bubbly Bar by Maria Hunt. Â The Stiletto is a riff (to use the word liberally) on the classic Champagne Cocktail and it was great. Â The Landy really shone through and played extremely well with the orange flavor of the Grand Marnier. Â I think the sweetness of the Proseco we used was a good choice as it gave the cocktail a light sweetness without being cloying.
Stiletto
1/2 - 1 oz Cognac
1/2 oz Grand Marnier
4 oz Sparkling Wine
1 Drop of Bitters
1) Combine the Cognac, Grand Marnier and Sparkling Wine in a flute
2) Add one drop of bitters
Having sampled Landy VSOP both straight and in a cocktail, it plays both roles tremendously well. Â It's flavors are distinct and smooth enough to call for you to have a snifter and it's strong enough to stand up to other ingredients in a cocktail. Â Definitely one to keep an eye out for.
---
† The product reviewed here was provided to me as a free sample. If you're wondering what that means check out my sample policy.