Posted by Reese
on 2008-07-03 @ 09:08pm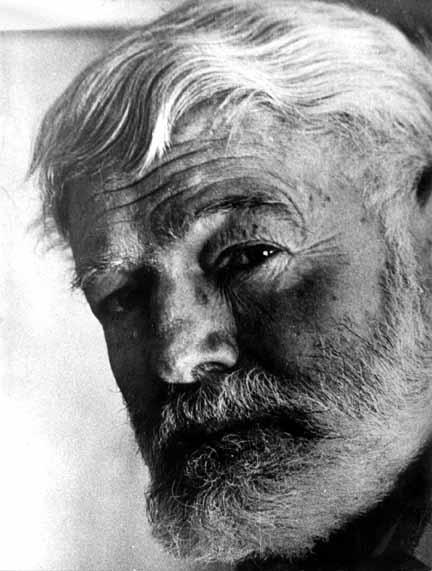 Ernest Hemingway is famous for many things, most notably his writing, but he was also an Olympic quality drinker.  One of his favorite cocktails was none other than our focus for the week, The Daiquiri.  He spent a number of years in Cuba (~1939-1960) during which his favorite hangout was El Floridita bar in Havana.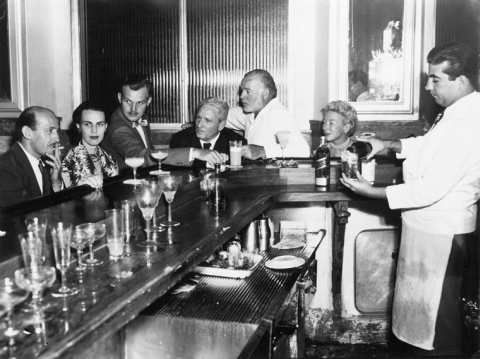 The Hemingways and Spencer Tracy at El Floridita
Hemingway liked a small tweak made to the standard Daiquiri recipe when he was enjoying them.  Namely, Hemingway doubled the rum resulting in what has come to be known as the Papa Doble.  Aaron and I decided to give this one a go, in the name of science, of course.  We started with the "classic" recipe as listed on Wikipedia.
The Daiquiri:
9 parts Cuban Light Rum
4 parts Lime Juice
1 part Simple Syrup
Double the rum and you get...

The Papa Doble:
18 parts Cuban Light Rum
4 parts Lime Juice
1 part Simple Syrup
As you can see the Daiquiri recipe we chose for this experiment was pretty light on the simple syrup to begin with.  Which thus resulted in a Papa Doble that was even less sweet.  Which was an ok drink, but not really what we were looking for.  Aaron and I felt that were we to go the Papa Doble route we'd likely make a couple small modifications to suit our tastes better.
The Papa Doble (Per Cocktail Hacker):
8 parts Cuban Light Rum
2 parts Lime Juice
1 part Simple Syrup
This recipe brings up the sweetness, but keeps the lime juice and rum at approximately the same level.  Which, in our opinion, results in a more balanced cocktail.  I also think this would be a great place to try branching out on your ingredient choices.  For daiquiris I really enjoy using a Rhum Agricole.  Rhum Agricole is a rum type that uses cane juice rather than molasses for the fermentation base.  There are many available from the Caribbean and one (that I know of) from the US (10 Cane Rum).  I would also recommend trying some demerara syrup in place of the simple syrup.  It adds another layer of complexity to the drink.  Enjoy your Papa Dobles and think of Hemingway as you do.