Posted by Reese
on 2008-07-01 @ 05:00pm
So as I was writing our kick off post for The Daiquiri and later the post on simple syrup I got to thinking.  Although The Strawberry Daiquiri is not truely classic it is quite tasty at times.  There must be some way to combine the classic feel of The Daiquiri with the wonderful flavor of fresh strawberries.  Then it hit me, a strawberry infused simple syrup!  Thus was born The Strawberry Classic Daiquiri.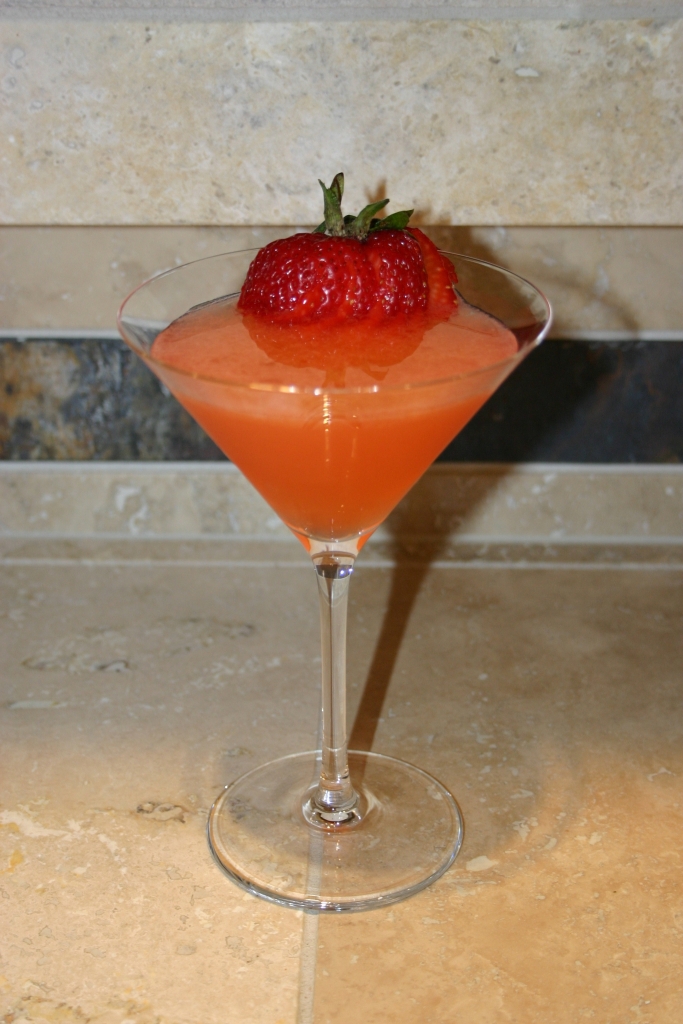 The infused simple syrup, which I'll discuss more below, gives the drink a nice pink color.  Note that the recipe for this cocktail is sweeter than traditional, but I like it because it allows the strawberry syrup to come through more.  The resulting drink is wonderfully strawberry-y and still holds true to the daiquiri theme.
Strawberry Classic Daiquiri:
[Ingredients]

2 oz Light Rum
1 oz Strawberry Syrup
1 oz Lime Juice
[Directions]

1) Shake well with ice
2) Strain in to a cocktail glass
3) Garnish with a fanned strawberry
Now, in my earlier post I promised more info on infused syrups.  They're really not much more complex than standard simple syrup.  They do however require a little more time.
Strawberry Simple Syrup:
[Ingredients]
2 cups Water
2 cups Sugar
1 lb Sliced Fresh Strawberries
2 oz Everclear

[Directions]
1) Simmer sugar, water and berries for 10 minutes
2) Strain out strawberry pieces
3) Add Everclear to increase shelf life 
Don't discard the strawberries, they're fantastic for strawberry shortcake or over ice cream.  This same technique can be used for making any number of infused syrups.  For example you could try mint syrup for mojitos, raspberry syrup for another twist on The Daiquiri, or ginger syrup for a spicy twist. Enjoy!