Posted by Reese
on 2012-06-16 @ 08:31pm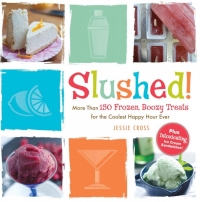 I scream! You scream! We all scream…for ICE CREAM! :D  And you know what's even better than regular ice cream?  Boozy ice cream!  That probably wasn't a huge mystery for you, but hey, it's true.
As you can well imagine, when a review copy of Slushed arrived at my door offering more than 150 frozen boozy treats I was more than a little giddy.  There are a whole host of delicious sounding recipes to choose from: Campari and Lemon Gelato, Maple Bourbon Yogurt Studded with Bacon and Pecans, St. Germaine and Earl Grey Tea Gelato…suffice to say, the choice was harder than originally expected.  But, to give the recipes what I felt was a true test I wanted something fairly simple which should have great flavors.  I opted for Death by Double Chocolate Liqueur Ice Cream with a slight twist.
Death by Double Chocolate Liqueur Ice Cream (with a Twist)
6 Egg Yolks
3/4 cup Sugar
2 cups Heavy Cream
1 cup Whole Milk
5 oz Bittersweet Chocolate (chopped)
1 Tbsp Vanilla Extract
3 Tbsp Chocolate Liqueur *
3 Tbsp Coffee Liqueur *
2 Tbsp Black Onyx Cocoa Powder *
* My additions/subtractions
1) In a medium sized bowl, whisk the egg yolks and sugar together.
Set aside.
2) Combine the cream and milk in a medium-sized, heavy-bottomed pot.
Cook the mixture over medium heat, whisking occasionally, until the
mixture just starts to bubble at the edges.  Remove from the heat.
Toss in the chopped chocolate and cocoa powder.  Stir until the
chocolate has melted and the mixture is uniform.
3) Slowly, drizzle the hot chocolate mixture into the egg yolks,
whisking constantly to combine. Transfer the hot mixture back to
your pot.
4) Cook over medium heat, whisking constantly, until it registers
170F on a candy thermometer and is thick enough to coat the back of
a spoon.  Strain the mixture into a bowl.  Stir in the vanilla
extract and chocolate coffee liqueur.
5) Cool in an ice bath, whisking frequently to lower the mixture's
temperature.  Refrigerate untilcompletely chilled, about 4-6
6) Process the mixture in your ice cream maker according to the
manufacturer's instructions.  Transfer to a container and freeze
overnight.
I made this ice cream for Mother's Day (yeah, yeah time's been tight) and everyone loved it.  The texture and flavor were amazing.  Very silky with an incredible chocolate flavor.  The liqueur doesn't add any alcohol flavor, but the core flavor (in my case coffee) came through in a subtle, just strong enough way.  This book is a huge winner in my opinion.  The focus is on great recipes that happen to have booze in them, not mediocre recipes with booze shoehorned in for gimmick's sake.  In Elisabeth's words "I want to make every recipe in this book this summer!"  I concur wholeheartedly.
---
† The product reviewed here was provided to me as a free sample. If you're wondering what that means check out my sample policy.