Posted by Reese
on 2012-05-04 @ 06:08pm
Hola, Amigos.  Cinco de Mayo is staring you in the eyes and I hope you're ready to take it on.  If you're not quite there yet, I'm here to help with a seemingly cliche, yet damn tasty, tequila post.  I got two samples bottles a while back that I've been enjoying for the past weeks and really need to let you know about.  They're both really great products and would play very well with whatever you have planned for Cinco de Mayo.

Clase Azul Tequila Plata (40% ABV) – I opened the interesting bottle (more on that later) expecting to find another good, but not impressive, blanco tequila.  I was dead wrong right from the start.  The aroma is of roasted agave with bright, crisp vegetal notes and some citrus notes that are hard to pin down.  The flavor is quite simply delightful.  The agave is the star and this blanco is crisp, bright and lightly vegetal.  There is a slight peppery quality to it and yet it's tremendously smooth.   Finally, there is a sweetness that runs throughout.  The finish is all about the agave with subtle sweetness coming along for the ride.  Really reminds me of the roasted agave I sampled at Tales of the Cocktail a few years back.  I think the most telling thing I can offer is that I kept on drinking my sample when I was done taking notes.  Just sipping it straight up.  Lovely.
How about that bottle though?  It certainly can't be described as plain.  There are a few descriptors that have been tossed around the house lately, most of which are better not repeated here.  But, the killer for me is that it's a pain to pour, like a huge pain.  That said, what's inside is worth every bit of trauma but, be warned, you'll be sad when a little bit drips on the counter.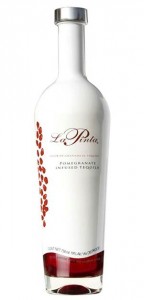 La Pinta Pomegranate Infused Tequila (19% ABV) – The color is crimson and reminds you immediately of the color of pomegranate arils.  The aroma is nondescript and doesn't hint much at what's to come in the flavor.  Which, on a side note, I always find interesting as taste is largely scent based.  The flavor is sweet but not nearly so as other liqueurs.   The pomegranate flavor is very fresh and doesn't taste overly cooked or at all artificial.  The tequila base is there, but it's definitely a background note only.   The pomegranate flavors are the star.  Very tasty overall.  I would use this in an instant as a stand-in for grenadine.
And, that's exactly what we did.  Naturally, there are a ton of great tequila cocktails I could have made (check the bottom for some links if you're looking for Cinco de Mayo recipes), but given that I had great tequila AND a pomegranate liqueur it only seemed logical to mix up some Tequila Sunrises.  The flavor was spot on to the drink made in the classic fashion and, as always, very tasty and refreshing.
Tequila Azul and La Pinta Tequila Sunrise
2 oz Tequila
3 oz Orange Juice
1/2 oz La Pinta Pomegranate Liqueur
1) Combine the tequila and orange juice in a shaker with ice
2) Shake until well chilled and pour into an ice filled rocks glass
3) Slowly add the Pomegranate Liqueur so it pools at the bottom
Enjoy your celebrations, friends.  Here are a few more recipes to get your party rolling right.
---
† The product reviewed here was provided to me as a free sample. If you're wondering what that means check out my sample policy.