Posted by Reese
on 2011-11-03 @ 04:43pm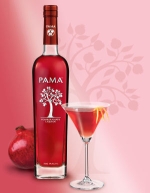 I received a review bottle of Pama about two years ago and it got lost in the shuffle.  It's a shame, but it happens.  And, now that I've tried Pama, I'm doubly disappointed that I waited so long.  Pama has a fantastic flavor and is a dream to mix with.
Pama's color is a bright, well…pomegranate, red.  The aroma is sweet with the pomegranate notes coming through loud and clear.  And, now, the important part, the flavor.  The flavor of Pama definitely manages to hold on to some of the fresh fruit flavor.  Sadly, there really isn't any way to keep it all.  The sweetness is definitely present, this is a liqueur after all, but it's cut really well by the sour notes leaving you with a nicely balanced spirit.  The base spirits are a combo of vodka and tequila and you can definitely taste hints of the tequila coming through, which I really like.
Wanting to know how it would hold up to other bold flavors we mixed up a couple cocktails from the Pama website.  Though, I have to give you a tip.  There is a secondary Pama site that's kinda hidden in the lower right of the main site, Pama Professionals.  This is where you want to go look for cocktail recipes.  They're a step above the recipes on the main site and they sport more nuanced flavors and complexity.  To get us started, Elisabeth wanted something with Champagne.  I couldn't complain as the Champagne would cut some of the sweetness and play really well with the fruitiness.
Marie Antoinette (Pama Professionals)
1 oz PAMA Pomegranate Liqueur
1 oz Gin
1 oz Lemon Juice
1/2 oz Simple Syrup
Champagne
1) Combine the Pama, gin, lemon juice and simple syrup with ice
2) Shake until well chilled
3) Strain into a Champagne flute and top with Champagne
This drink has definite ties to a French 75 and that is a great thing.  The sourness of the lemon and Pama are tamed a bit by the extra simple syrup and the champagne cuts through it all giving it a great lightness.  If you use a bold gin its flavor come in and play ball as well, the herbal notes working especially well with the fruitiness.  Definitely give this one a try next time you're jonesing for a French 75.
Following that I wanted to play off the tequila base so I checked out their site and opted for the Persephones Elixir.
Persephones Elixir (Pama Professionals)
3/4 oz PAMA Pomegranate Liqueur
1 oz Blanco Tequila
3/4 oz Lemon Juice
Ginger Beer
1) Combine the Pama, tequila and lemon juice with ice
2) Shake until well chilled
3) Strain into an ice filled collins glass and top with ginger beer
The added tequila harmonizes extremely well with the pomegranate.  The ginger beer adds light effervescence and flavor complexity.  This is a great drink and I would definitely mix this up on a hot day.  And, since you added some volume with the ginger beer, you might actually get some hydration out of it too.  Win win.
I learned some valuable lessons with this one.  One, here are another pair of pink cocktails that are delicious.  I'm starting to see a real trend developing here.  Two, I'll think twice before putting something on the back burner again.  I'd hate to miss something as good as Pama as a result.
PS – If you're a cook, you should definitely check out some of the food recipes on their site.  There look to be some great recipes on there.  For one, the Pama Flourless Chocolate Torte has been on my mind since I saw it.
---
† The product reviewed here was provided to me as a free sample. If you're wondering what that means check out my sample policy.