Posted by Reese
on 2011-05-31 @ 10:25pm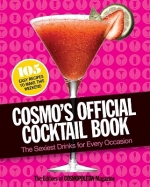 Let's get something very clear.  I'm not a reader of Cosmo.  But, that said, I did have a subscription to Maxim for a couple years and, let's face it, you remove the gender slant and they're really the same thing.  So, when my review copy of Cosmo's Official Cocktail Book arrived I tore into it in search of the lost secrets of how to please my man and get him liquored up in the process (wait a sec…).  What I found was a pretty good collection of cocktails and some fun stuff thrown in for kicks.
The recipes in Cosmo's book, not surprisingly, lean toward the sweet side, but they do add some fun ingredient twists and they're actually not half bad cocktails.  In addition, throughout the book you get little quizzes, tips, facts, etc.  On top of all that there are a pair of features that I really like.  First, the recipes are all fairly simple with easily accessible ingredients.  And, on that note, if there is an ingredient you're not familiar with you can look it up in the back of the book to get an idea of the flavor, etc.  Second, there is a "Cocktail Crash Course" section at the end of the book that introduces the tools, spirits and some pointers from a bartender.  These features make the book accessible to cocktail mixers of all skill levels, which I think is exactly how books like this should be.  I do have one complaint, which was pointed out by my loyal test subject, the cocktail pictures don't always show the true look and color of the cocktails.  While this is likely not a problem for a guy, it was pointed out that some ladies out there might pick cocktails to match a color palate.  So, knowing that, make sure you mix up a sample cocktail to see if the colors work and, bonus, you get to drink the sample.
Blood Orange Bonanza (Cosmo's Official Cocktail Book)
3 oz X-Rated Fusion Liqueur
1 oz Light Rum
1/2 oz Grenadine
1) Combine ingredients in a blender
2) Add a handful of ice and blend until smooth
3) Garnish with a slice of blood orange
First, let me say 70's blenders are rarely going to get you a picture perfect frozen drink.  Mine sure as hell didn't, but enough whining.  Like a number of cocktails in this book, the Blood Orange Bonanza is very pink.  But, like cocktails in the past, I'm going to let that slide.  It's all about the flavor, right?  This drink was a little too sweet for me at first, but it was well received by Elisabeth.  And, as the ice melted a bit the sweetness was cut and the overall flavor is quite nice.  The liqueur offers some bright fruit flavors and the rum rounds it all out.  I could have used a bit more sourness in this for my taste, I'd say a touch of lime juice or even blood orange juice would do some great things.
I added about 2 oz of prosecco once I'd had my initial sips and was really pleased.  The prosecco cut the sweetness and gave the drink a really pleasant effervescence.  I'd definitely suggest giving that twist a try if you mix up this cocktail.  We also mixed up a few others from the book so keep an eye out for the recipes and my thoughts.
---
† The product reviewed here was provided to me as a free sample. If you're wondering what that means check out my sample policy.