Posted by Reese
on 2011-02-08 @ 08:37pm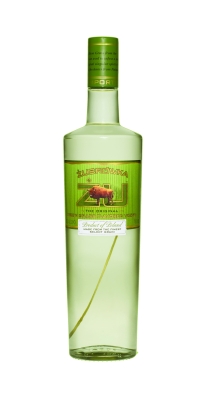 A bit back, I was offered a sample of Żu bison grass flavored vodka.  Having seen it on the shelves a few times I couldn't resist the chance to try it out.  Before I get to reviewing the actual product, let's take a quick look at what exactly bison grass and bison grass vodka are.
Bison grass is a wild grass native to both North America and Europe.  It has a couple other names that may be more familiar to some of you: sweet grass, buffalo grass, manna grass and vanilla grass.  The grass has a distinctive sweetness which plays into the flavor of the vodka.  Now, how about that bison grass vodka.  Żubrówka, or simply Żu as it's sold in the US, is a Polish vodka distilled from rye.  After distillation the vodka is infused with bison grass extract and finally a blade of bison grass is added to each bottle.
Żu has a lovely light yellow/green color from the grass extracts.  As you bring it to your nose you get a mild herbal note, a touch of grassiness and a subtle sweetness.  The flavor is truly interesting.  Subtle sweetness and mild herbal notes, just like the aroma.  The herbal notes are similar to a very light herbal tea rather than the flavors you find in herbal liqueurs.  I would certainly drink this on it's own or over ice.  The flavors are complex and interesting without being overwhelming.
Żu's herbal notes are sure to play well in lots of cocktail applications.  But I wanted to try something simple that would accentuate the vodka.  One recommendation is to mix it simply with apple juice.  I first tried with an equal part apple juice and found this mix to be quite good, but a little unbalanced.  Next I upped the apple juice to two parts and found a real winner for me.  The herbal flavors play off the fruitiness of the apple juice extremely well with neither stealing the show.
I'm excited to try this in some other vodka classics like the Apple Martini and even a simple Vodka Tonic.  If you're looking for a new vodka for your shelves, give this one a go.  I think you'll find it intriguing.
---
† The product reviewed here was provided to me as a free sample. If you're wondering what that means check out my
sample policy
.