Posted by Reese
on 2008-07-30 @ 06:20pm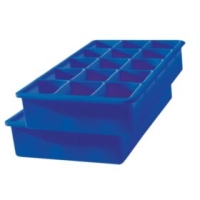 Ice is essential to a good cocktail.  In the case of drinks served over ice, good looking ice is also a nice visual touch.  As I'll discuss in detail in a later post I'm on a personal mission to create the perfect cocktail ice at home.  One of the requirements of what I deem good cocktail ice is a nice shape.  Picture, if you will, a wonderfully created Tom Collins served to your guests in a tall, thin Collins glass over the little milky crescents that your freezer pops out.  Just doesn't seem quite right does it?  The Tovolo Perfect Cube Ice Cube Trays to the rescue!
These ice trays produce nearly perfect cubes about 1.25″ on a side.  The trays are made of food grade silicon so they won't pick up weird freezer smells and as such won't impart those scents to your ice.  They're easy to fill and although they appear somewhat floppy once full of water they're not too bad to handle.  The only problem I've run in to is that the ice is a little more difficult to get out of the trays than with a standard tray.
You can find the trays on Amazon.com, at Bed, Bath and Beyond and other retailers.  At about $10 for a pair they're worth the investment.  And they're a great step toward making your home cocktails even more elegant and professional.
Tovolo Perfect Cube Silicone Ice Cube Tray
[Referrer Link]