Posted by Reese
on 2009-05-21 @ 01:27pm
Last week I posted about the differences between shaking and stirring.  Since the post was focused on the merits of shaking or stirring Martini like drinks specifically Dan mentioned a classic take on the Martini that he had recently mixed up.
A couple months ago my family was having a big old gathering at our house. I felt like having a drink so I took out my tumbler and started making a martini. Everyone was asking what I was making and were confused when they saw me stirring instead of shaking. I explained to them why it's better to stir instead of shake, but they required more convincing. The final product (2oz Hendricks, .25oz dry vermouth, 2 dashes orange bitters) was passed around and tried by 7-8 of my extended family members, all with nothing but good things to say. They said it 'didn't taste like a martini!' and that they would actually drink it.
This recipe is very close to the original Martini recipes of the past which featured orange bitters rather than an olive.  I didn't really cover this formulation of the Martini very well previously and felt this would be a great time to revisit it.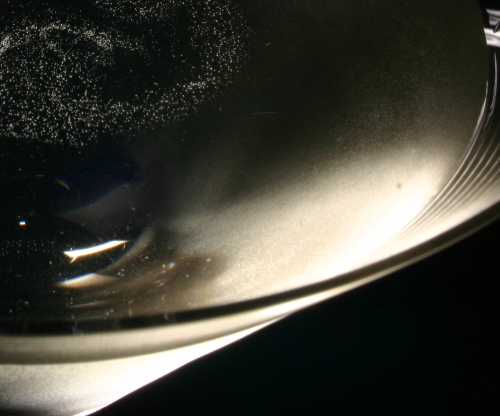 Dan's recipe decreases the vermouth level quite a lot, which is only appropriate given his selection of gin.  Hendrick's is a wonderful gin with a complex flavor.  However, it's not what I would call a particularly bold gin and would be completely lost were you to go with higher vermouth:gin ratio.  When I mixed it up I used new (old) formula Noilly Prat and Regan's Orange Bitters.
The results were amazing.  My notes sum it up well: "Wow! Seriously fantastic Martini!"  And that it is.  The gin is light enough to allow the flavors of the vermouth and bitters to come through, yet the gin is still present.  I had a bit of lemon zest ready to add as a garnish, but it wasn't necessary.  In fact I think adding some lemon would have overpowered the delicate balance of flavors.
After having consumed this cocktail I'm ready to bestow a fairly large compliment.  I would drink this Martini and enjoy it a great deal.  For those of you just recently tuning in, I'm not really a Martini guy.  I love gin with all my heart, but never drink it in Martini form.  That may very well change with this recipe though.
A sincere thanks to Dan for suggesting the recipe.  Keep 'em coming!
Dan's Classic Martini
2 oz Hendrick's Gin
1/2 oz Dry Vermouth
2 Dashes Orange Bitters
1) Combine ingredients over ice
2) Stir until very cold (30-60 seconds)
3) Strain into a cocktail glass