When I first started experimenting with cocktails with Cocktail Hacker Emeritus, Aaron, I knew very little about spirits at all.  I had a scant few bottles that I would consider favorites and a slightly larger few that were my house choices for cocktails.  I distinctly remember one of the times I was hanging out with Aaron we make a special trip to Denver in search of Michter's American Whiskey.  Aaron had a more developed taste for whiskey at the time and had been trying different bottles.  He'd settled on Michter's as his favorite (for the time at least) and he was woefully out.  I went along happily (any trip to a liquor store is a good one) and ended up with a bottle on my shelf as well.  This story, albeit rambling and a little pointless, came rushing back to my head when sample bottles of Michter's came through my door.  And, I can now say with conviction and considerable experience that Aaron was on to something those years ago.  This stuff is damn good.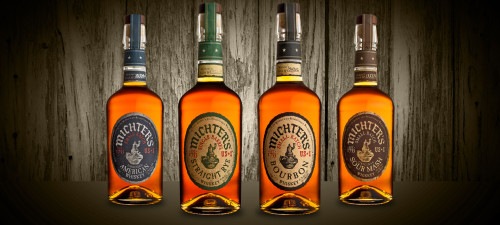 Michter's US*1 Bourbon (45.7% ABV) – The striking amber/brown color catches your eye and draws you in. Â Despite the higher than average proof, the aroma bears little to no raw alcohol smell. Â Instead, it speaks of caramel, vanilla and the smoothness of the whiskey. Â The flavor, as you might expect, follows suit. Â The flavor is rich and full with hints of caramel, vanilla and butterscotch. Â Fruit and slight notes of oak and smoke play throughout as well. Â The finish is long and mellow with a distinct sweetness.
Michter's US*1 American Whiskey (41.7% ABV) – The amber color speaks simply to the nature of this whiskey; powerful and complex. Â The aroma of the American Whiskey is more forward than the Bourbon with more fruity qualities and the caramel and vanilla you'd expect. Â The flavor too is more fruity (dried/candied fruits) but interestingly less sweet (likely from the second fill on the barrels). Â This spirit seems more purely whiskey to me. Â You can taste the grain notes and there is a sub-channel of rye spiciness and holiday spices running throughout. Â The medium length finish is lightly dry with the vanilla and holiday spices floating along through the end. Â Only as the flavor fades did I pick up the gentle oaky notes of the barrel.
Michter's US*1 Straight Rye (42.4% ABV) – Honey brown in color with fruit and spice throughout the aroma. Â There is an interesting tangy note to the nose which hints at the complex flavor to come. Â There are, of course, the spiciness and holiday spice qualities that you want in a great rye plus deep fruit flavors that remind me of sherry finished scotch. Â There are also the expected vanilla and caramel, but with more depth and complexity. Â The flavor is truly full and rich extending into a long, complex and smooth finish.
Through all three of these whiskies, you can taste the lower proof that the whiskey enters the barrel (103 proof). Â It gives the finished product more depth and sweetness since less water is added to bring the spirits down to their bottle proof. Â Now, granted, I'm a giant rye nerd, but I really enjoyed Michter's Straight Rye. Â For me it has a complexity and depth that a lot of ryes on the market right now don't bring to the table. Â That said, all three of these whiskies are great. Â It was almost a little hard to review them. Â I wanted to keep the secret to myself and protect the bottles I might be able to find. :)
PS – The Old Fashioned I made with Michter's US*1 American Whiskey was perfect in its simplicity. Â Amazing how little fooling around great spirits need to make great cocktails.
---
† The product reviewed here was provided to me as a free sample. If you're wondering what that means check out my sample policy.