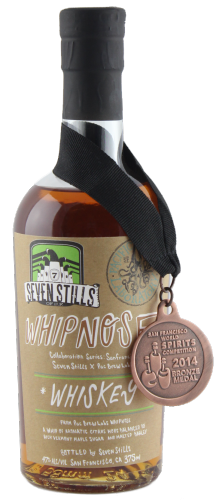 I drink sample a lot of whiskey and enjoy every last drop. Â In all of those samplings there are aromas, flavors and general experiences that run throughout. Â Vanilla, caramel, spices, oak, whiskeyness if you will. Â So, when a new whiskey comes through my door I expect those basics in varying quantities and qualities. Â Whipnose Whiskey from Seven Stills of San Francisco turned that whole expectation on its head. Â The description of how this whiskey was created is best left to the Seven Stills distillers.
Whipnose is the first in Seven Stills' Collaboration Series.  For this project we partnered with Pacific Brewing Laboratory, located in San Francisco.  We started by distilling each of Pac Brew Lab's beers to see if we could make a unique whiskey, and as soon as we tasted the whiskey made from their double IPA we were blown away.  Shortly after we brewed 60 barrels of Whipnose IPA, and distilled it into 165 gallons of whiskey, and aged it in new American Oak Barrels.

The name "Whipnose" aptly describes the whip of hop aroma this whiskey opens up with.  The taste is rich malt, dark dried fruits (plums, prunes), light vanilla, toasted oak, and finishes with a smooth, lingering maple syrup.
That whip of hop aroma they mention is absolutely true. Â It blew me away as well. Â I would never have expected the hop aroma and flavor to carry through to the whiskey so directly, but it's there with conviction.
The aroma hits you first with hops – citrusy, floral, exactly what you'd expect. Â Then you get classic whiskey aromas of vanilla, caramel and notes of dried fruits in the background. Â The flavor is unlike any whiskey I've tasted. Â In my notes I wrote "quizzical look" and if you picture a dog turning it's head to the side, you'll know exactly what I looked like. Â There is fruitiness like crazy in Whipnose, both citrus notes from the hops and dried fruits (cherry, prune). Â You get the standard whiskeyness of vanilla, caramel and oak as well, but the fruit is the star. Â The floral aspect of the hops is there as well, but more of a background player. Â Finally, the finish is light and slightly sweet with a very pleasant hint of bitterness from the hops.
This is a whiskey I would slow sip and enjoy the complexity as it warms in your hand.  But my brain wouldn't let it go at that, I had to try it in a Boulevardier.  I went with 2:1:1; Whipnose, Sweet Vermouth and Campari and it was a stroke of genius.  The resulting cocktail retained the floral aroma of the hops and the citrus and bitter qualities of the Campari teamed up with the same in the Whipnose.  The complex herbal qualities of the vermouth round it all out.  If it's possible to mourn the passing of a cocktail, I certainly did when my glass went dry on this one.
On the very large plus side, a second release is in the works. Â Hopefully soon!
---
† The product reviewed here was provided to me as a free sample. If you're wondering what that means check out my sample policy.