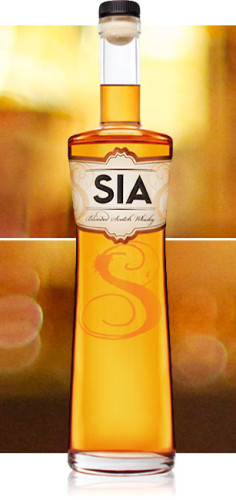 I think we can all agree that whiskey is definitely an acquired taste. Â For some of us, myself near the head of the line, that acquisition process is very quick and soon turns into a full blown love affair. Â For others, they never get it. Â I'd dare say, some folks are likely baffled by why people drink whiskey at all. Â Carin Luna-Ostaseski, founder of SIA Scotch Whisky was firmly in the "I'm not sure I get this" camp when she first sampled Scotch with friends. Â Thankfully she had a determined friend who quizzed her on her favorite cocktails, wines and foods. Â Armed with this new knowledge, he was able to guide Carin to whiskies that she truly enjoyed. Â This realization that whiskey has many facets, began her journey to bring to market a new Scotch whisky tuned for the palate of her target audience, whisky virgins and enthusiasts alike with a modern palate. Â Finally, to bring her dream to reality, she appealed to the masses on Kickstarter and their funding told her she was on the right track. Â And now it's here.
SIA Scotch Whisky (from the Scotch Gaelic word six) shows itself as a light honey/amber color. Â The aroma is awash with hints of dried fruit, fruitcake and sherry with herbal/medicinal notes floating in the background. Â The flavor brings a subtle sweetness of caramel, vanilla and a hint of fruit. Â There is a bare hint of smoke and medicinal peat that lets you know you're drinking a Scotch whisky. Â The finish is long and light with hints of toasted cereal grains and honey.
This is definitely a lighter whisky and I can certainly see where it would appeal to whisky virgins. Â SIA doesn't punch you with peat, smoke or aggressive flavors. Â But, I can see the appeal for whisky enthusiasts as well. Â You get nuances of a lot of Scotch whisky regions but the whole remains harmonious. Â I can definitely see myself reaching for a dram of SIA when I'm looking for something lighter that still brings an interesting flavor spectrum.
---
† The product reviewed here was provided to me as a free sample. If you're wondering what that means check out my sample policy.