Posted by Reese
on 2009-01-15 @ 09:25pm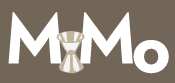 This month Mixology Monday is being hosted by The Scribe of A Mixed Dram. The topic of this month's gathering (virtual at least) is 'New Horizons'. Summed up as "Try a new base spirit. Use a technique you've never used before. Try something new!" Well, this led to a considerable amount of pondering on my part. Should I try a class of cocktails I've not tried? Something with a whole raw egg perhaps. Or maybe I should try to do some wine research. I certainly enjoy wine, but don't feel I truly appreciate it. No, neither of those were really out of the box enough. In talking to Sean, a coworker and fellow lover of libations, I was reminded that I don't generally drink or like beer. Let me elaborate.
During all my years of drinking I've never liked beer much and, as a result, generally don't ever drink it. In fact I've been pondering this over the last few days and I've come to the conclusion that, all told, I've consumed about 8-10 pints of beer in my life. Weird, no? Especially coming from a graduate of CU, which was voted the number 1 party school in the country a few years running. Based on this it was clear to me what my MxMo submission for this month had to be. I had to brave the beer world and truly expand my horizons.
I enlisted the help of Sean and Eric who are the most beer knowledgable people I know and began what turned in to a fairly epic journey. First, we decided we'd walk to the local liquor store (Liquor Mart) which is about a 1/2 mile from my house. After nearly slipping on the ice numerous times and taking a wrong turn down a dead end alley we finally reached our destination. What came next was both amazing and baffling to me. We spent the next hour selecting the beers that would be inlcuded in this tasting. My requests were fairly simple: 1) Let's not do a bunch of beers from the same brewery, 2) Let's pick a wide range of beers, 3) Let's pick the best and 4) We should include a Pabst Blue Ribbon, cause well you know it's PBR and all. We even enlisted the wisdom of Kyle at the store, getting him suggest some options and pull a couple special single bottles from the back.
Once paid and out of the store it became abundantly clear that walking was probably not the best choice. Problem one of the journey home came shortly after leaving the store with our boxes of beer. You see, one box wasn't especially well balanced and about 30 feet from the doors to the store it saw a gap in Sean's hands and decided to make a break for it. Little did the escapees know, glass and parking lots don't mix well. We quickly picked up the glass and Sean went in to replenish the stocks. Liquor Mart, being the fantastic store they are, replaced both six packs for nothing. Granted one was PBR, but still incredibly cool on their part. Problem two came about 3/4 of the way home when my arms felt like they were going to fall off. Thankfully that was easily corrected with some strategic load shifting.
What are the results of this epic journey you ask? Behold…
We ended up with 15 individual beers spreading the spectrum of types, processes, gravities, flavor profiles, breweries and even countries. To help out with the truly hard part, tasting, I enlisted yet more friends. Sean and Eric offered to come back, Aaron (fellow hacker) was in once beer was mentioned, and my Dad signed on once he knew the beer and pizza for the evening were on me.  Conrey was disappointed he couldn't be around for the tasting, but was kind enough to provide this review (in order pictured) pre-tasting "yes, no, yes, never had, never had, love it, never had, good, really good, good, never had, meh, yes, ok, yes."  Thanks buddy!  Below you'll find my notes from each beer and bit from the experts (my fellow tasters) on what it should really taste like. Hope you enjoy.
Pabst Blue Ribbon
Pale Lager – 4.7% ABV – Pabst Brewing Company
[Reese] Tastes like watered down real beer. Kind of a nasty after taste. I can certainly see why people like this. You could drink them all day and never know it.

[Experts] This is a classic macrobrew. It's meant for drinking all day, like while you're boating for example. Favorite in category by some, but certainly not a consensus.
Sapporo Premium
Japanese Rice Lager – 5.0% ABV – Sapporo
[Reese] Sharper on the tongue, very little after taste. More flavor than the PBR, but still not strong by any means.

[Experts] Whew, all I can think of is sushi. More sourness than you get with an American lager. Not particularly bitter or hoppy.
Original Premium
Lager – 5.1% ABV – Weihenstephaner
[Reese] More of what I would define as the classic beer smell. Almost has a sweetness to it.

[Experts] Wow that is different. Smoother. More sweetness. You're tasting the way the yeast and grain interact.

[Special Note] This is the world oldest brewery. Dating to 1040.
Easy Street Wheat
Wheat Beer – 4.6% ABV – Odell Brewing Co
[Reese] More grain flavor. More malt flavor comes through. Not particularly bitter, sweet, sour, etc. This truly does go well with the pizza. Hard to admit it, but I'm enjoying this experience.

[Experts] That's a classic American style wheat right there. Goes amazingly well with the pizza.
Mirror Pond Pale Ale
Pale Ale – 5.0% ABV – Deschutes Brewery
[Reese] More of a hoppy smell and flavor. Quite a bitter after note, but not unpleasant.

[Experts] Can you taste where there's more hops, more grains, more of everything? This is the top of the Pale Ales. The IPAs jump off from here. I don't want to sip this, I want more!
Quest Tripel Blonde Ale
Gluten Free Tripel – 8.5% ABV – Green's
[Reese] Kind of an odd smell. Doesn't really taste like beer to me. Quite sweet, as beers go. There really is a Champagne flavor to this.

[Experts] What you're smelling is the lack of grains. There is all sorts of citrus in that. More like a soda. Tastes kinda Champagne-y.
Peche Lambic
Fruit Lambic – 4.0% ABV – Lindemans
[Reese] Tremendously sweet almost syrupy. Very peachy. Good, but certainly not beer. Tastes like Martinelli's with alcohol.

[Experts] There's a hint of peach to this beer *grin*…Oh my god! Is this peach syrup? Doesn't taste bad, just doesn't taste anything like beer.
Trappist Ale Tripel
Trappist Ale – 9.5% ABV – Westmalle
[Reese] Very definitely beer. Much more bitter than some of the previous. Ummm…yeah…beer-tastic. I really don't like this one.

[Experts] This is equivalent to Chimay. Dirt Tasting. Tastes harsh…I disagree. This is definitely a beer. Going from the lambic to this was quite a shock. But I don't like Chimay's either….GASP! I'm a big fan of the Belgians.
Fuller's ESB
ESB – 5.9% ABV – Fuller's
[Reese] Definitely richer, more complex flavor. You can taste the nuttiness as Sean suggests.

[Experts] Now this is where Eric gets happy. We're getting back in to beers now. No more of this froo froo stuff. Nutty! Do you get the nut in this? Mmmm…that's a good beer. Dad – This is more beer than I've drunk in 10 years…at least.
Ellie's Brown Ale
Brown Ale – 5.8% ABV – Avery Brewing
[Reese] Smell is much more intense than previous beers. Definitely taste the coffee flavor. Richer flavor still. Bitter after taste…Not unpleasant, but certainly more present than previous.

[Experts] *Lip Smacking Sound* Mmm…some good coffee flavor. One of the best browns in the world. Who do you think's better? Samuel Smith's? Hell no!
Planet Porter
Porter – 5.5% ABV – Boulder Beer
[Reese] Beer is actually quite light despite the color. You can certainly taste the chocolate malt. A mellow beer with a fairly smooth flavor.

[Experts] Holy catfish! Look at that! This is a classic porter. When you read about porters in high school this is the one they'll describe. This is the transition between the Mickey's you had in middle school and the refined ale (PBR) you had in college. Porters are usually made with chocolate malt which is added during the steeping process. That's where you get the dark color. This has the lightest body of the beers we've tasted but a stronger flavor.
Celebrator
Doppelbock – 6.7% ABV – Ayinger Brewery
[Reese] Wow, the smell is intense on this one. The flavor is very, very different on this one. It's a doppelbock! Clearly it's got to be doppel what ever we had before. I expected a flavor similar to the porter and this is nothing like it. This has a really strong malt flavor.

[Experts] There's all kinds of spice in this one.

[Special Note] This beer came with a tiny trinket. For those of us that have had less beer it is clearly a ram. Sean on the other hand believed it is in fact a minotaur. Or mee-no-tar as it was enunciated.
Old Rasputin
Russian Imperial Stout – 9.0% ABV – North Coast Brewing
[Reese] I came in to this expecting Guinness and I was told not to. I still get Guinness out of this, but I've maybe had two pints of Guinness in my life, all in car bombs. Definitely similar to the porter. I'm really losing my beer tolerance at this point. I can no longer get the taste of beer off my tongue.

[Experts] Don't think Guinness…it's more like the porter than anything else. That's so succinct! This is Old Rassie! It's good. Kicks Guinness' ass.
Twin Sisters Double IPA
Double IPA – 9.5% ABV – Left Hand Brewing
[Reese] I like this more than the others we've had. The bitterness is nice and there is a bit of sweetness in there. Still above and beyond the Reese beer limit, though. Very hoppy.

[Experts] Definitely not as bitter as I expected. One of my favorites. Too bad we're having this at the end of the tasting.
90 Minute Imperial IPA
Imperial IPA – 9.0% ABV – Dogfish Head
[Reese] The smell is distinctly hoppy and bitter. This is uber bitter. It really is cleaner than the Twin Sisters though. This beer is a kick in the face for me. I am quite thankful we've reached the end of the tasting. So…much…beer. When I handed the remainder of my beer to Eric his only comment was "Thank you!"

[Experts] This is cleaner than the Twin Sisters…I would drink this over the Twin Sisters every day. This is awesome actually. It's something I can't drink more than one or two of. I'm so glad we finished on this one.

[Special Note] The 90 minute is in reference to the amount of time that the hops are infused in the beer. They also make a 120 minute if you're wondering.
Wow! What an awesome night of beer consumption. I really had a fantastic time and I truly have a new appreciation for beer. This was an excellent introduction to the world of beers. There are so many varieties and each definitely has its own unique characteristics. Am I a total beer convert? Definitely not. As you can see from my tasting notes as we got towards the end of the night I reached my beer threshold. With all of that said though, each time I sample a beer from here on out I'll have a better understanding of where it stands in the beer world. Thank you to Eric, Sean, Aaron and Dad for helping making this night such an amazing time. I leave you with a final pic from the tasting. The aftermath, as it were.