Posted by Reese
on 2012-10-24 @ 01:42pm
There is a lot going around about the "Most Interesting Man in the World".  And, while I love those ads, he's just a myth.  Martin Miller on the other hand, is very real and very much in contention to be truly the most interesting man in the world.  Truly a serial entrepreneur, Miller started his working life by publishing a book entitled "Success with the Fairer Sex" and from there he moved to publishing the well know series of Miller's antiques guides.  Didn't expect that, did you?  Expanding on that success he's grown his empire to include a string of boutique hotels and a lecture venue in London.  But in 1999 is when he really gets interesting, at least us drinkers.  That's the year when Miller set out to make the first truly ultra-premium gin.  One that "tasted great, even when drunk neat."  The rest is cocktail history.  See what I mean?  That's the sort of guy you sit down with for a drink and hope the bottle never runs dry.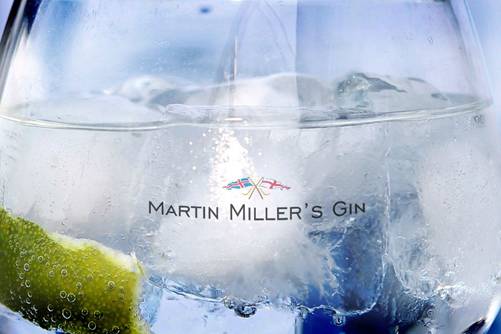 Man makes a damn fine gin too.  Sourced from the best ingredients Miller could find, distilled in small batches, and flavored simply with only ten botanicals for a flavor profile that is both rich and smooth, Martin Miller's gin is great, through and through.  Last, but arguably most important, Miller drops his gin to strengthusing ultra pure water sourced directly from the glacial runoff of Iceland.
Martin Miller's Gin (40% ABV) – The aroma carries light juniper and citrus notes without being overly bold or piney.  The flavor delightfully follows suit with light juniper notes in the background and smooth citrus taking the fore.  You get slight hints of the coriander and other spices, but they are very subtle.  Overall the flavor is very clean and the finish is medium in length.
Martin Miller's Gin Westbourne Strength (45.2% ABV) – The juniper takes the reins with this bottling.  You first notice it more prevalently in the aroma with the citrus notes a bit more muted.  In the flavor the juniper and spices (coriander and licorice most notably) are the stars.  While the citrus is still present, it is lighter by comparison.  The overall flavor is, like the standard bottling, very clean and smooth with a medium finish.
Both are fantastic gins and I was amazed at the flavor differences given that they are the same recipe, simply bottled at different proofs.  Certainly there are lots of cocktail options, but when you give me a high proof gin, the first thing that always comes to mind is one of my first and favorite cocktails on Cocktail Hacker, the Gimlet.  The Gimlet is one of those deceptively simple cocktails.  It only has two ingredients…Rose's Lime and Gin.  Mix, drink, done.  Easy.
Wrong.  You get the ratio wrong and now you're in a land of over-sweet limeyness.  Use a subtle gin and all of the gin flavor goes away.  Bringing this drink back to my rotation using Martin Miller's Westbourne Strength was a stroke of personal genius, but I have something to admit.  My original recipe was off.  The gin needs to be fractionally more of the equation.
Gimlet (Cocktail Hacker Remix)
2 1/2 oz High Proof Gin
1 oz Rose's Lime
1) Mix with ice, drink, repeat
This seemingly minor change alters the flavor profile by leaps and bounds.  You decrease the sweetness without cutting it out, you bring forward the gin highlighting the botanicals.  In short, you make it awesome.  Now you.  Go make it awesome.
---
† The product reviewed here was provided to me as a free sample. If you're wondering what that means check out my sample policy.