Posted by Reese
on 2011-08-19 @ 02:06pm
I was first exposed to the wonders of Asian markets about 10 years ago.  My first experiences were that of awe and excitement.  There were tons of new interesting things to look at, buy and, were I brave enough, eat.  That last bit brought about a challenge.  I offered to my friend Colton that he could pick any drink he could find and I'd, at minimum, try it.  I had some seriously weird ones including grass jelly drink and birds nest drink (complete with bits of nest) to name a couple.  So when he picked aloe drink it seemed a natural choice, I mean, it has floaty bits in it!
So, I have to admit, the floaty bits had me a bit worried.  But, after the first taste I was hooked.  This stuff is great.  Aloe drink has a crisp and fresh flavor with hints of citrus and grape.  The floaty bits are pieces of chopped aloe which are rich in vitamins.  And, the kicker for me, aloe drink isn't overly sweet.  It only has 120 calories for a 16 oz bottle.  So, what started as a sort of dare has turned into a tradition for me.  Every time I hit the Asian market I pick up an aloe drink.  Thus, it goes without saying that when I was offered samples of ALO, a new aloe drink on the market, I immediately said yes.  Though, what really piqued my interest was their suggestions on using it as a cocktail ingredient.  Despite the loads of bottles I've consumed it never crossed my mind to mix it up in a cocktail.  That quickly changed.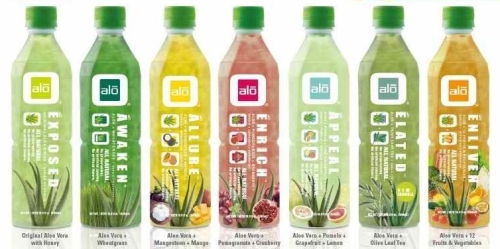 ALO, unlike the other aloe drinks I've had in the past, comes in a variety of flavors.  For each they combine aloe pulp and juice with other natural ingredients to make each drink.  I had the chance to sample six of their seven flavors.
Exposed – Classic Aloe Drink – This is the flavor you'll recognize if you've had any other aloe drinks in the past.  The flavor is lightly fruity with a nice citrus hit and a subtle grape flavor.  It's got an interesting fruit characteristic that's hard to put your finger on.  It's kinda like those fruit candies you get at some restaurants.  You know they're fruit, but you can't say exactly what fruit.  This is a solid base flavor to build off of.  Since it's not overly strong it adds a nice fruity undertone without masking other ingredients.
Appeal – Aloe + Pomelo + Pink Grapefruit + Lemon – Very bright and citrusy.  The grapefruit flavor is the main player.  I think this one could make for an interesting twist on a Paloma or Salty Dog.
Elated – Aloe + Olive Leaf Tea – The aloe is subtle in this one with a fresh green tea flavor the star.  There is a touch of lemon, but I think it could be bumped up a bit.  The tea flavor really piqued my interest and I decided to craft up an original cocktail with it.  Look for the Honeysuckle in a few days.  In addition, I think this would mix really well with gin.  Especially if you found one with tea flavors of its own.  Roundhouse, for example.
Enrich – Aloe + Pomegranate + Cranberry – The pomegranate and cranberry add a fresh sourness and a bright pink color.  I wouldn't say that either over powers the other, though.  Additionally, they're quite nicely balanced with the aloe flavors.  The natural choice for this ALO is a Cosmo.  Keep reading for the recipe.
Allure – Aloe + Mangosteen + Mango – This was Elisabeth's hands down favorite.  The mango flavor is strong and there is some lychee flavor coming through as well.  No particular cocktail immediately springs to mind for this one, but maybe a mango Margarita or something with a solid rum backbone.
Awaken – Aloe + Wheatgrass – I'm always a bit leery of wheat grass.  It smells like something that came out of a lawn mower.  ALO Awaken was a pleasant surpise, then.   The grass flavor is subtle and balanced by the fruitiness of the aloe drink base.  Subsequent sips found the wheatgrass flavor tamed even further.  I tried this in a Caipirinha, thinking to play the grassy flavors off of each other and it was really tasty.  Again, the recipe is below.
Enough review.  Cocktail time.
ALO Caipirinha
2 oz Cachaca
2 oz ALO Awaken
1/2 Lime, Quartered
1 tsp Demerara Sugar
1) Muddle the lime and sugar until the sugar is dissolved
2) Add the cachaca and ALO and stir
3) Fill glass with ice
This is a very tasty cocktail.  With only 1 tsp of sugar it's a bit on the dryer side (which I like), but that can certainly be easily tweaked to your personal tastes.  As I suspected the grassy notes from the ALO and the cachaca work well with each other.
ALO Cosmo
2 oz Citrus Vodka
2 oz ALO Enrich
1/2 oz Lime Juice
1/2 oz Cointreau
1) Combine ingredients in a shaker with ice
2) Shake until well chilled
3) Strain into a chilled cocktail glass
Light, bright and refreshing.  Another pink cocktail I could easily drink way too many of.  This is another case where the cocktail is actually fairly dry despite having fruit juice and Cointreau in it.  If you wanted a bit more sweetness you could add a bit of grenadine which would bump up the pomegranate flavor and add some sweetness.
So, to finish, if you haven't tried aloe drink before you should really give ALO a try.  With all their flavors there is a lot to chose from.  Plus, they're distributing ALO in a lot of more mainstream markets, Sunflower, Cost Plus World Market and Whole Foods to name a few.
---
† The product reviewed here was provided to me as a free sample. If you're wondering what that means check out my sample policy.