Posted by Reese
on 2011-07-27 @ 08:35pm
Talking to the proprietor of a small farmer's market stand or family run business is always an uplifting experience for me.  The passion that these folks exude simply can't be beat.  Talking to Jeff Lindauer, CEO of Spring44, is the same.  The passion for his products is palpable and you're quickly wrapped up in the story of Spring44, both the eponymous spring and the company.
In 1969 Jeff's father purchased a plot of land in the Colorado Rockies completely surrounded by Roosevelt National Forest.  You see, earlier in the century homestead plots surrounded by forest land were sold to ranchers.  The idea being that the rancher would then lease the surround forest land to graze his cattle and both enterprises would benefit.  Jeff's father purchased this remote piece of property from the original rancher and Jeff and his family vacationed their throughout their lives.
A tradition when visiting the Lindauer's property has always been to drink directly from the high mountain spring, Spring44.  As luck would have it, on one such outing Jeff brought along his friend and water connoisseur, Russ Wall.  Russ was amazed with the quality and purity of the water.  Insisting that his friend had an untapped resource on his hands he convinced Jeff to get the water tested.  What they got back confirmed Russ' belief that they had some of the purest natural water in the world.  Their first idea of a line of top shelf bottled water quickly faded as they realized the cost to get the water from the spring to market would result in bottled water costing more than $10 per bottle.  Lovers of fine spirits, their brainstorming naturally turned that direction and Spring44 was born.
Jeff and Russ have set their sights high right from the start.  Their intent is to compete in the uber competitive premium vodka market.  And, they've come out swinging.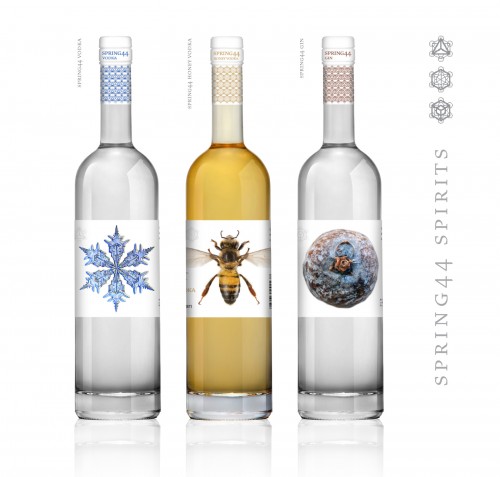 Vodka (40% ABV) – Crystal clear with noticeable viscosity.  The aroma is crisp, bright and lightly sweet.  The flavor follows suit with a light sweetness, great mouth feel and a super-clean finish.  There is a subtle complexity to this vodka that's hard for me to put words to.  You take a sip, contemplate and want to take another sip to see if you can identify it.  I would absolutely put this vodka on par with other premium and super premium (read expensive) vodkas on the market.
Honey Vodka (40% ABV) – Wanting to create a vodka with a unique flavor the gents at Spring44 couldn't have picked better than honey.  There are sparse few honey vodkas on the market and Spring44 is a great addition.  The color is, as you would expect, a very light honey.  The aroma is distinctly honey with sweet and floral notes rounding it out.  The flavor is sweet, but not overpoweringly so.  This is definitely a honey vodka, not a honey liqueur.  Though, that said the honey flavor is pronounced and very clean.  You could definitely sip this all on its own.  On a side note a small portion of the profits from this vodka go to a group focused on promoting pollinators.  It's a nice gesture, but not a marketing point.  They do it because they feel it's the right thing to do.
Gin (40% ABV) – Crystal clear and lightly viscous, like the vodka.  The juniper is definitely the star of the aroma with citrus and coriander coming through in the background.  The flavor offers less juniper than you'd expect and complexity in spades.  Orange, juniper, lemon grass, cinnamon, green tea…seems like you could go on and on.  Each sip offering more to your palate.  This is a great gin.  Balanced flavors of juniper and other botanicals make this a great choice for drinks where the gin is the star.  The Martini (naturally), the Ramos Gin Fizz, or even a Gin and Tonic with the ratio low (like 2:1 tonic to gin) would be great with this gin.
Spring44's offerings are definitely in the premium spirits category with their flavors, but the great thing is the price doesn't follow.  Both vodkas ring in at $25 and the gin is $30.  Great deals all of them.  Another thing I love about Spring44 is the labels.  They're very cleanly laid out with a large iconic image on each.  A snowflake marks the vodka, a honey bee the honey vodka and a juniper berry for the gin.  The imagery is truly stunning.
I think what I liked most about talking to Jeff about his products was his boundless energy and enthusiasm.  We talked about the honey vodka and he explained the problems they had keeping the honey in solution.  We talked about their interest in getting certified as organic.  For the record, they're not certified yet, but most of their ingredients are organic.  From there we moved to the gin and we dove deep into their process, ingredients and his ideas for future offerings (dry gin, navy strength, etc).  You can tell he has a passion for his work that simply knows no boundaries.  Finally I asked where the name Spring44 came from.  Jeff got a slight twinkle in his eye and said that as a kid the answer to any question he asked his dad was 44.  "How much does that cost? $44  How much longer is it? About 44 miles."  Seems only appropriate that his dad would name the spring on his property Spring44.
I had the pleasure of attending the Spring44 launch party in Denver last week and want to share two of the cocktail recipes created by Denver mixologist Sean Kenyon.
Smokey Mountain
2 oz Spring44 Honey Vodka
1/2 oz Peach Liqueur
1/2 oz Del Maguey Mezcal Vida
1/2 oz Lemon Juice
1/4 oz Honey Syrup (1:1 Honey to Water)
1) Combine in a shaker with ice
2) Shake and strain into chilled cocktail glass
3) Garnish with a lemon wheel 
Two notes on this drink.  When they served it at the party they used habanero infused Spring44 Honey Vodka and the added spiciness was fantastic.  As regards the mezcal, you can really use any one you like, just make sure it's smokey.  That's key to the flavor profile.
Blackberry Sage Gin Smash
2 oz Spring44 Gin
3 Blackberries
4 Sage Leaves
1/2 oz Lemon Juice
1/2 oz Raw Sugar Simple Syrup
1) Muddle blackberries with the lemon juice and simple syrup
2) Add the torn sage and gin
3) Shake and strain over fresh ice in an old fashioned glass
4) Garnish with a blackberry and sage leaf
Nothing to add to this one.  Just super tasty.
---
† The product reviewed here was provided to me as a free sample. If you're wondering what that means check out my sample policy.