Posted by Reese
on 2011-05-03 @ 08:40pm
A few years back a friend took a vacation to Mexico.  Naturally, I asked that he bring back native booze.  The tequila that came back was a bottle of Espolon.  At that point the tequila wasn't particularly flashy, but it was tasty.  I've spent the last years meting it out to worthy guests and savoring each sip.  Quite exciting, recently I've seen bottles of El Espolon appearing on the shelves here.  The new bottles have a very cool Day of the Dead motif and I've been promised that the recipe I enjoyed has stayed the same.  Here's to hoping that's true.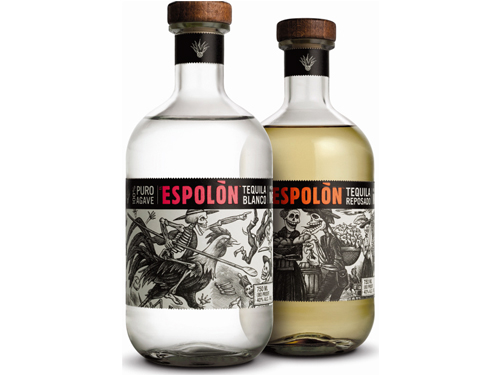 Blanco – The crystal clear blanco expression of Espolon has a bright, clean agave aroma.  The flavor has elements of roasted, vegetal agave and very light smokiness.  I got a light sweetness with just a touch of acidity and flavors reminiscent of stone fruits, cherry in particular.  Very light hints of spice round out the flavor and the finish is short and clean.
Reposado – The reposado is a light honey color and the aroma is exceedingly subtle.  It was hard for me to pick out individual aromas but I did get a bit of agave and some citrus coming through.  In addition there is an interesting dry, earthiness to the aroma.  The acidity remains balanced by the light sweetness.  The spice flavors have intensified a bit with the addition of vanilla and caramel.  Finally, the agave is still present but mellowed and blended harmoniously with the other flavors.  The finish on this one is equally clean and short.
The reposado is what my friend brought back for me and I can say it's the same delightful tequila that I've enjoyed these past years.  Both of these tequilas have a subtler agave flavor than some others so I'd suggest you pair them simply with some lime juice and triple sec for a classic Margarita.  That will let the tequila flavors shine without overpowering their delicate nature.
---
† The product reviewed here was provided to me as a free sample. If you're wondering what that means check out my sample policy.