Posted by Reese
on 2011-05-02 @ 04:13pm
When my samples of Partida tequila arrived they were accompanied by a folder full of gushing reviews and highlights of the awards the spirits have won.  Quickly leafing through the packet it seemed like the makers were really trying to toot their own horn.  Not wanting my reviews to be swayed I didn't read any of the information in the folder before I started tasting.  Looking back, the horn tooting was certainly not in error.  These tequilas really are something special.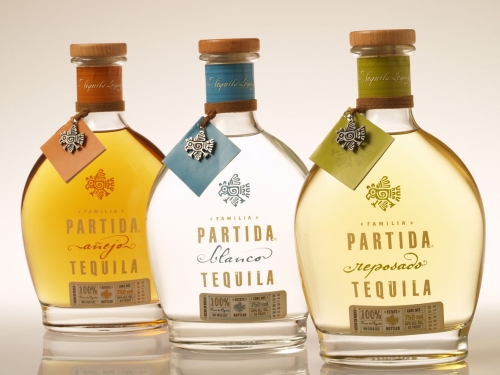 Blanco – This unaged tequila is a very pale straw color and has a crisp, clean, vegetal agave aroma.  The flavor follows suit with a subtle sweetness and the barest hints of vanilla and caramel flavors.  The agave is the real star here.  Its flavor is subtle but clean and bright.  The finish has a medium length leaving you with a very smooth and well rounded experience.  I think the blanco would make an epic Paloma.  Something where the agave flavors could really sing without being over burdened by too many other notes.
Reposado – Aged for 6 months, the reposado has a golden straw color with a more muted agave aroma with notes of oakiness just starting to pop out.  The agave in the flavor is also more muted, which is expected from the mellowing in the barrel.  Vanilla and caramel coming through stronger now, likely a combination of the barrel aging and the toasted agave sugars.  Finish is again medium to long leaving you with a very smooth overall flavor.  The subtle sweetness I noted in the blanco carries through here and I think this tequila would be awesome in a Margarita.  Though, if you decide to try that make sure to go a little light on the sweetener.  You really want to let this tequila sing.
Anejo – Aged for 18 months, the anejo has a beautiful honey gold color.  The crisp agave brightness I noted in the blanco have given way to complexity and depth with the caramel and vanilla flavors increasing yet more.  There is a touch more acidity on the palate with this one and all the flavors are toned down a bit and blended.  I tasted a very pleasant fruit and spice quality reminiscent of mulled cider coming through.  Extremely smooth and harmonious flavors throughout this one.  There is only one option to do this tequila right and that's to simply sip it neat.
I'm really impressed by the Partida line of tequilas.  They're not the cheapest you'll find out there by any means, but if you're looking to treat yourself or give something to a tequila loving friend, you really can't go wrong with these.
---
† The product reviewed here was provided to me as a free sample. If you're wondering what that means check out my sample policy.