Posted by Reese
on 2010-12-02 @ 11:00pm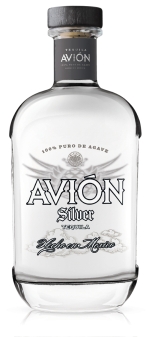 It seems the time is coming for premium vodka to step aside as the hip alcohol of choice.  I've received a few top shelf tequilas in the preceding months and they've been good, really good.  Tequila Avión, the newest sample to cross my doorstep, is no different.  Avión is a highland tequila from the high mountains of Jalisco.  After a long slow roasting process the agave is distilled in a hybrid stainless steel and copper pot still.  The distillate is then passed through a filtration process that the makers have deemed "ultra slow filtration".  After the filtration process, which is said to take 10 times as long as traditional filtration, the result is Avión Silver Tequila.
But enough with the marketing spiel; how about we discuss what the tequila's really like.  In a word, it's great.  The aroma is of crisp agave.  The flavor follows suit with agave, subtle vegetal notes and a light sweetness.  Finally, in the finish you get more of that nice agave.  Overall the tequila is tremendously smooth but maintains its agave character throughout.  Very much looking forward to sampling this one in a Margarita.  If you're looking for a super premium tequila this holiday season you definitely won't go wrong with a bottle of Avión.
---
† The product reviewed here was provided to me as a free sample. If you're wondering what that means check out my sample policy.