Posted by Reese
on 2014-07-31 @ 08:34pm
Guest post by Elisabeth, Cocktail Hacktress in training.
The New Old Bar is a cocktail book authored by The Hearty Boys (Steve McDonagh and Dan Smith). The Hearty Boys have gathered a great collection of cocktail and snack recipes for your enjoyment. The book is very attractive, with great pictures and easy to read text. The Hearty Boys first cover some of the cocktailing basics in Chapters 1 & 2. Chapter 3 has a great selection of over 150 cocktail recipes for you to peruse. These cocktail recipes cover everything from classic cocktails such as the Manhattan to original recipes. Recipes for garnishes and bar snacks are also provided.
We tested out a few of the recipes in this book. The first of these was the "Mayfair" cocktail – a blend of gin, apricot brandy and orange juice. This one was definitely tasty and easy to drink. The Eastern Sin, a scotch-based drink wasn't my favorite, but it could really appeal to someone that appreciates a unique cocktail.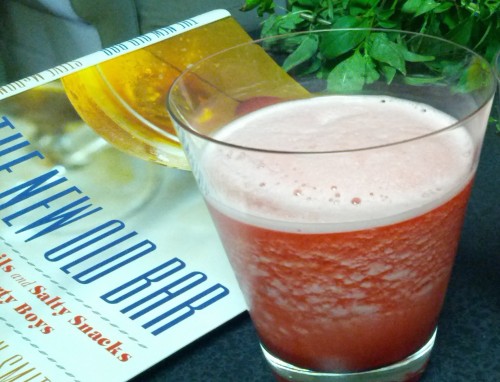 Finally, we tried the Sloe Gin Froze. This drink was a blended drink, which was absolutely perfect for July. As published, this recipe was way too sweet for Reese. I tend to prefer the sweeter cocktails, but I would probably even eliminate the simple syrup. If you are looking for a good summer cocktail, I highly suggest giving sloe gin a try. If you are looking for a well-rounded cocktail recipe book, pick up "The New Old Bar" at a bookseller near you!
Sloe Gin Froze
1.5 oz sloe gin
1 oz ginger liqueur
0.5 oz fresh lemon juice
0.5 oz simple syrup
1 cup cracked ice
Lemon wheel for garnish
Combine the ingredients in a blender and blend on high until smooth. Pour into a well-chilled glass and serve garnished with a lemon wheel. Yield – 1 cocktail.
---
† The product reviewed here was provided to me as a free sample. If you're wondering what that means check out my sample policy.