Posted by Reese
on 2013-02-05 @ 08:33pm
Shortly after I posted a tweet two weeks ago about having won the Crown Maple shot competition, one of my best friends sent me a text with a picture of what he was drinking that night. More than apropos, it was a Crown Maple based Moscow Mule.  A Maple Mule, if you will.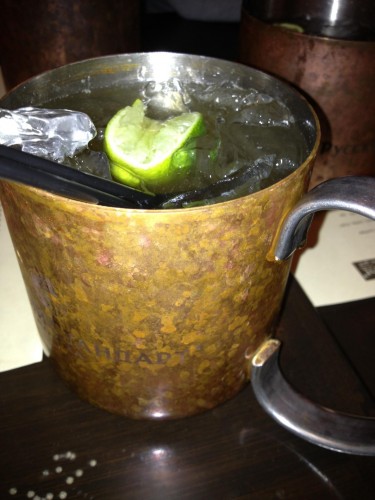 The drink sounded great, so tonight I whipped up my own version and I'm loving it.
Maple Mule
1 1/2 oz Vodka
1/2 oz Crown Royal Maple Finished
1/2 Lime
Ginger Beer
1) Combine vodka and Crown Maple in a glass with ice
2) Squeeze in the half lime and drop in
3) Top with ginger beer
The maple aroma and flavor are light and subtle and play really well with the lime and ginger flavors. The drink isn't overly sweet and goes down very easily.  The copper mug is optional but awesome if you can pull it off.
A very deep hat tip to Conrey for bringing this drink to my attention and for the great picture.