Posted by Reese
on 2008-09-04 @ 07:04pm
Shortly after the launch of Cocktail Hacker Aaron and I hosted a Gin tasting and I've been much too lazy in getting the details posted.  So, here's the start of the correction to that problem.
Both Aaron and I are huge Gin fans and my collection of the same has grown quite large, 19 bottles at current count.  That in mind we wanted to get our thoughts on each documented so we invited some friends over and chose six bottles to taste.  In attendance were Sean, Eric, Jeff, Aaron and I.  Now let me start this tale by saying that we all enjoy Gin, but none of us had ever done any sort of formal tasting.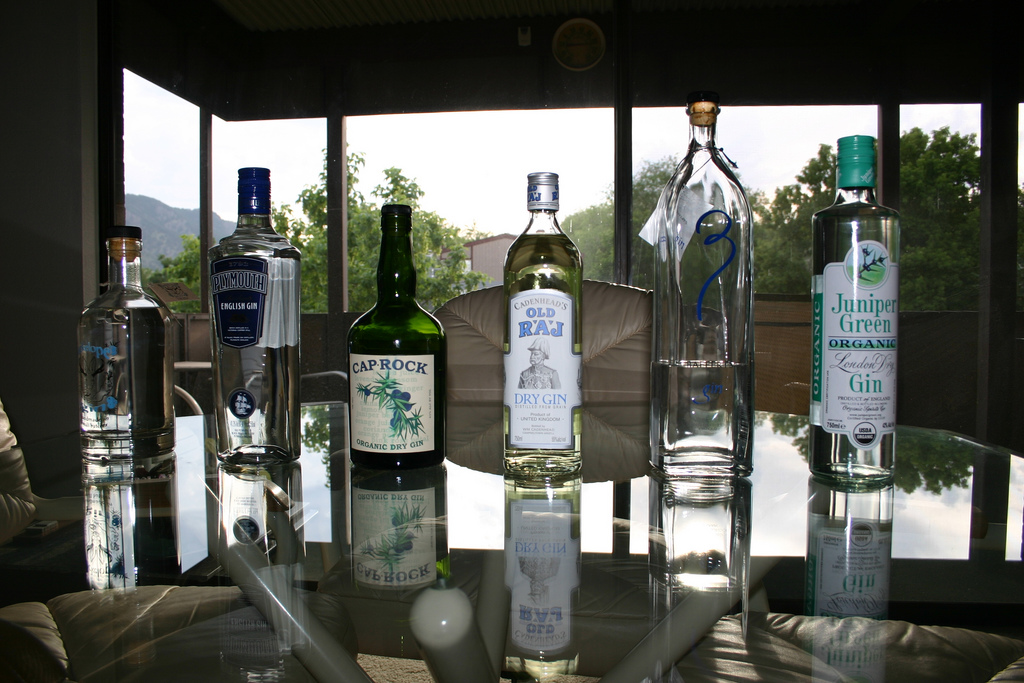 The Gins we chose from left to right are: Jackelope, Plymouth, CapRock, Old Raj, Bafferts and Juniper Green.  My plan behind choosing these six was to select Gins that I guessed most of the tasters had never tasted before.  However, being a spirit tasting neophyte I had no idea in what order we should taste.  Sean had had some experience tasting wine and so I gave him the job of putting the Gins in tasting order.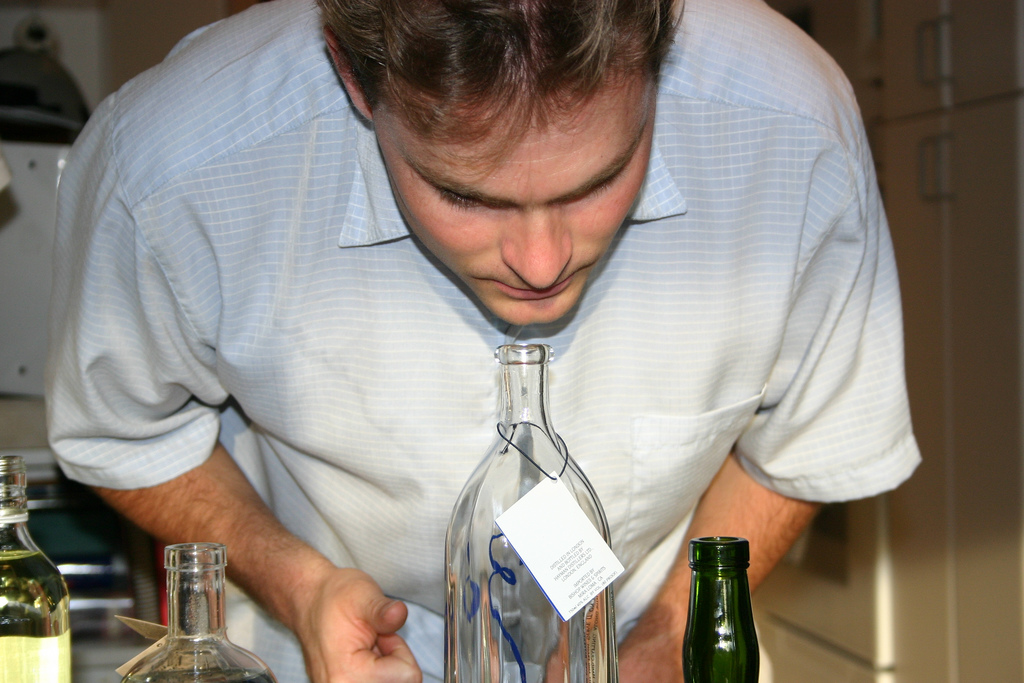 After having sniffed each thoroughly Sean chose a "roller coaster" style of tasting in that the flavors (based on the scents alone) should go up and down throughout the course of the tasting.  This was the wrong plan we found out, but more on that later.  Once the order was decided Eric decided he first needed to sample some Bombay Sapphire.  The thinking being Sapphire is a Gin we're all familiar with so it would serve as a good baseline for the rest of the tasting.  So there it began.  We ended up sampling all six (well seven, technically) Gins then retired for some sushi on Pearl Street.
I'll be writing up our thoughts on each of the Gins over the next few weeks and I'm sure that the Cocktail Hacker tasting parties will continue so we'll be sure to document those as well.  Hopefully in a more timely manner.
[NOTE] There are a lot more pictures from the tasting in the Cocktail Hacker Flickr Pool.  Which, now that I think about it, I've not mentioned here before.  Check it out, there are some nice images in there. [/NOTE]