Posted by Reese
on 2008-08-28 @ 08:58pm
We had a great time in Vegas and enjoyed some seriously tasty cocktails while there.  Our cocktail related travels began in one of the lounges at the MGM Grand.  Aaron and Lindsey were enjoying Mojitos when Colton and I arrived.  I, in an attempt to catch up, quickly chose to go with a Manhattan.  The Manhattan was quite tasty although nothing that will stand out as one of my great cocktail experiences.  This has solidified my belief that a Manhattan is a cocktail you can order with relative ease when the bar is questionable.  Normally I would say that a Gin and Tonic, another of my perennial favorites, is another good choice in this category.  However, Aaron decided to test this at the Mermaids Casino on Fremont Street.  The cocktail served was horrifying.  Aaron summed it up nicely as "tonic with a splash of brut cologne".
The ingredients of a Manhattan most any bar will have on hand.  Even if the base ingredients used are of poor quality the resulting cocktail usually ends up tasting all right.  I followed my Manhattan experiment with a Sidecar, which Aaron had previously called his "Vegas standby drink".  What I got was some Brandy with sour mix.  Although not the true recipe, the cocktail was still palatable.  Later that evening we visited a great bar, Red Square, in Mandalay Bay.  A Russian themed bar most of the cocktails were vodka based, but to their credit they clearly had some good thought behind them.  I especially liked the freezer room that you could enjoy your drinks in if you took advantage of their bottle service.  This privilege came complete with fur coats to keep you warm as you drank and dined.  We didn't opt for this choice, but perhaps next time.
Sunday night we continued our Tiki celebration by having some delicious cocktails at Trader Vic's in the Planet Hollywood hotel and casino.  I entered with some trepidation expecting a commercialized Tiki experience serving quickly built, poor tasting cocktails.  I got nothing that I expected.  The restaurant and bar is very upscale and the food and drinks were fantastic.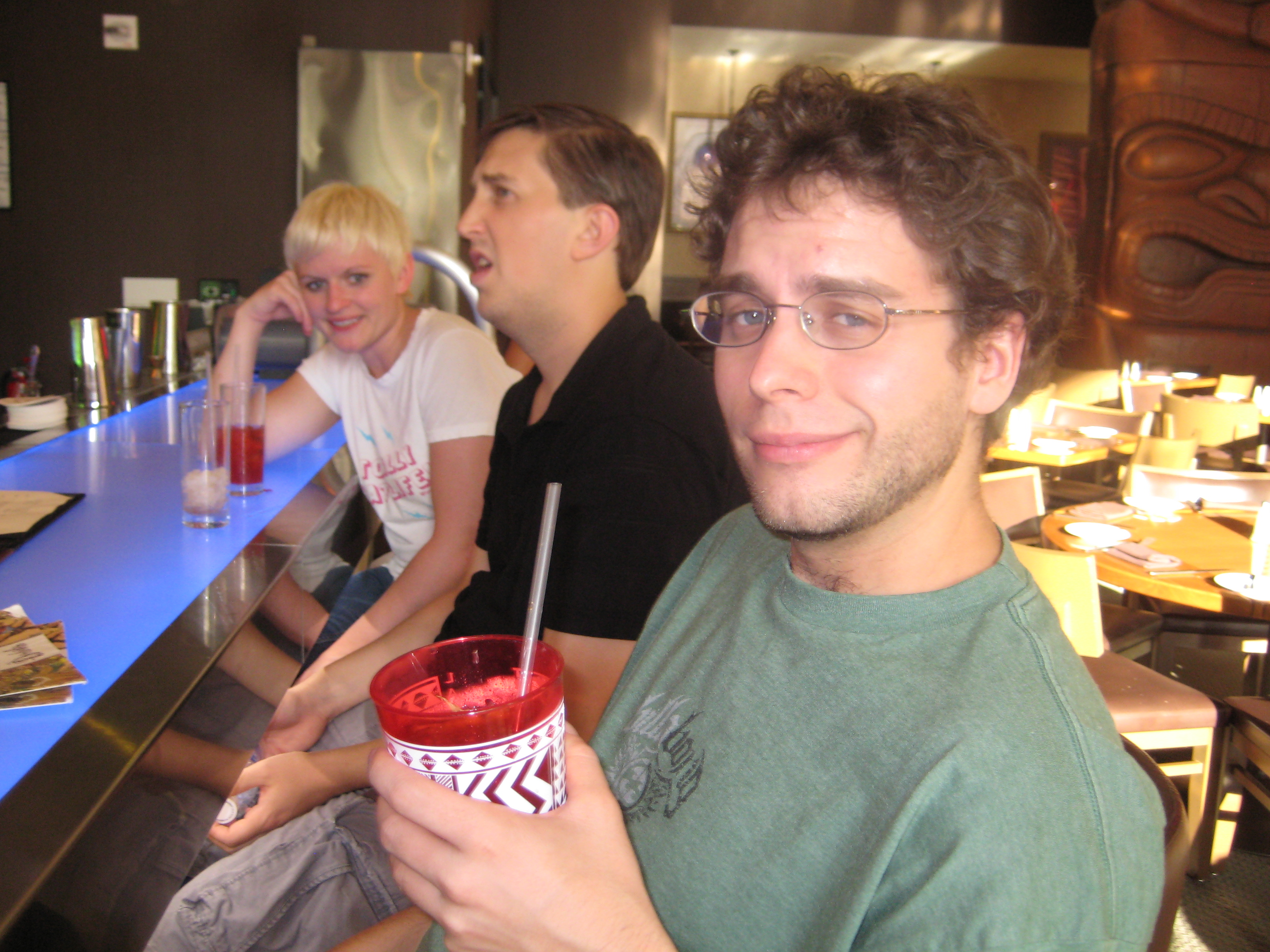 Colton even enjoyed his Mai Tai!  Aaron and I started with Trader Vic's Grog, which were fantastic, but unfortunately evaporated due to the low elevation.  You can see this by Aaron's confused look in the picture above.  It was such a strange scientific phenomenon.  We chose to have another round to see if the problem persisted.  Next I had a Navy Grog.  This was a nice chance to compare their recipe to the one I used during Tiki Week.  The main flavor, and still my favorite, was the Allspice syrup.  Although, in the Trader Vic's version the sweetness was downplayed, which was actually quite nice.  When mixing this cocktail in the future I think I'll decrease the syrup to lessen the sweetness.  Aaron had the Honi Honi which was an interesting Bourbon twist on a Tiki cocktail.  Despite the obvious strangeness, the drink was very good.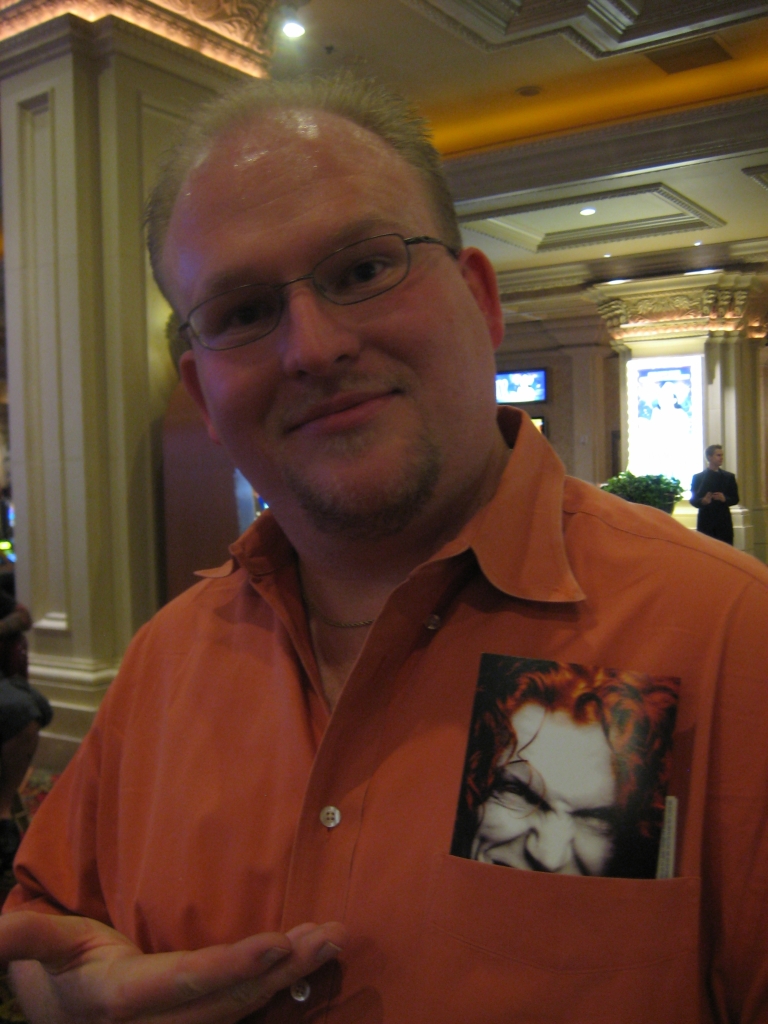 What else did we do in Vegas?  Well, some of it obviously has to stay in Vegas but I can sum it up with some bullet points:
Carrot Top is Beyond Scary, Seriously
Blue Man Group is Fantastic
Ditto on Cirque Du Soleil 'O'
Vegas Free Drinks Span Horrible to Tasty
Non-Free Drinks in Vegas are Rarely Cheap
Nine Fine Irishmen in NY, NY has good Food, Music and Drinks
Pai Gow is Way Better than Roulette
Umbrella Drinks at the Pool Kick Ass (and your Wallet)
And I'm sad to report that Aaron died in a horrible fall from the top of the Stratosphere tower.  That said, he died with honor, like any true cocktail hacker, with his beer in hand.  He will be missed.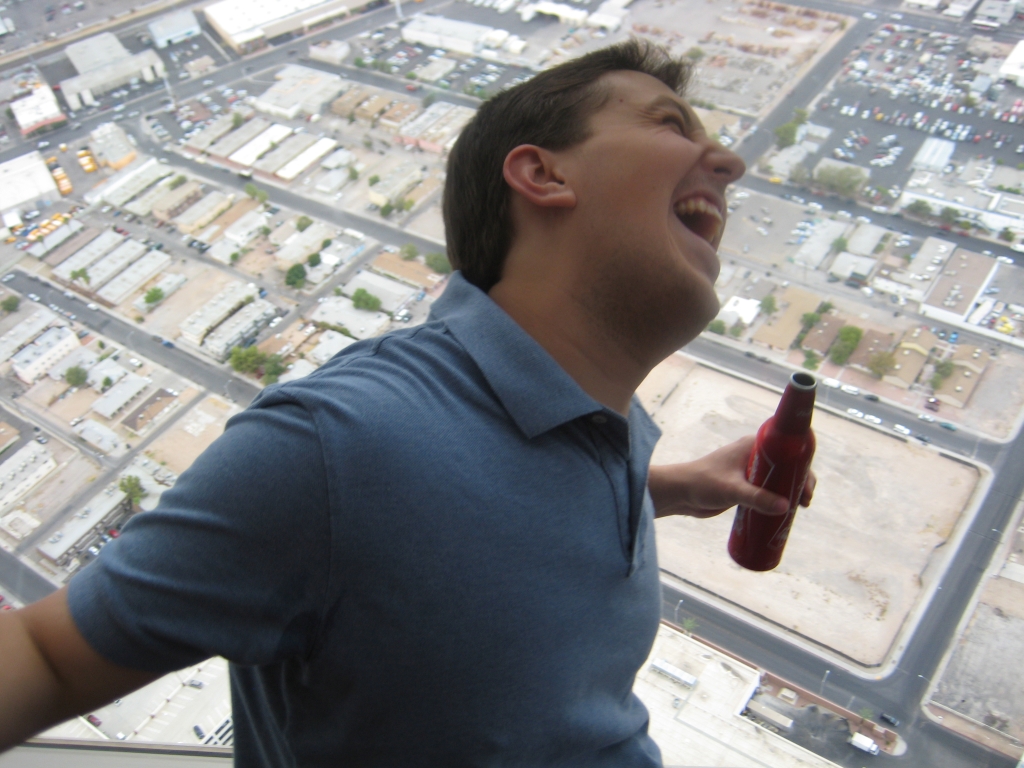 Ok, so he didn't actually die, but the picture was too good not to be shared.