Posted by Reese
on 2012-08-26 @ 08:05pm
Guest post by Elisabeth, Cocktail Hacktress in training.

If you had asked me before I started dating Reese what my favorite type of drink was, I'm not sure what I would have said. I have tried plenty of drinks, but I am still inexperienced enough to learn something every time Reese mixes something up. I have learned one thing, though:
I love tequila!
I love the agave flavor, the way tequila enhances a drink with agave earthiness and smokiness, and how good tequila doesn't require the assistance of lime. If I could have spent my summer touring agave fields and sampling tequila fresh out of the still, I would have been in heaven. Alas, this wasn't in the plans so when I saw the series of Milagro tequilas Reese had received, I begged him to help me review them.
Milagro Silver (40% ABV)
This affordable version of the Milagro tequila line is the purest example of tequila I have ever tasted. Milagro Silver has a clean agave aroma (Reese smelled black pepper) without any interference. The taste reflects the aroma- clean, crisp agave with little interference of other flavors/aromas. Milagro Silver would be a great addition to a drink where you want to let the agave flavor shine.
Milagro Silver, Select Barrel Reserve (40% ABV)
The Special Barrel Reserve is aged in French Oak barrels which lends a richer, warmer complexity to the tequila. The nose has a subtle vanilla sweetness, with a little oakiness. The product tastes just as crisp as the Silver described above with a tremendously smooth, medium length finish of earthy agave.
Milagro Reprosado, Select Barrel Reserve (40% ABV)
The aging of the Special Barrel Reserve Milagro Reposado in American Oak bourbon barrels gives a heartier oak character. When directly comparing to the Milagro Silver, the sweet caramel and vanilla aroma really shines through. This tequila has a slight golden color and medium-long finish. This tequila is pure and all about the agave without being overly sweet, vegetal or smoky.
Rather than test Milagro's mixability with a traditional margarita, we opted for a tequila chocolate martini.
Mexican Chocolate Martini
1 1/2 oz Milagro Silver Tequila
3/4 oz Trader Vic's Chocolate Liqueur
1/4 oz Original Cinn
2 dashes Fee's Aztec Chocolate Bitters
1) Stir with ice, strain into a chilled cocktail glass.
This drink really lets the agave flavors of the Milagro shine through and smells delightfully like earthy agave sprinkled with cinnamon. Cinnamon and chocolate embrace a Mexican chocolate tradition. The cinnamon in Original Cinn is an earthier cinnamon to give it more an authentic taste (rather than a red hot cinnamon in other liqueurs). Do not be tempted to add cream. It swamps the flavors and overwhelms the drink.
P.S. (from Reese) – I love the bottle design on the Select Barrel Reserve bottlings.  The hand-blown agave plant inside the bottle is gorgeous.  The fact that the tequila inside the bottle is also fantastic is complete icing on the cake. *wink wink*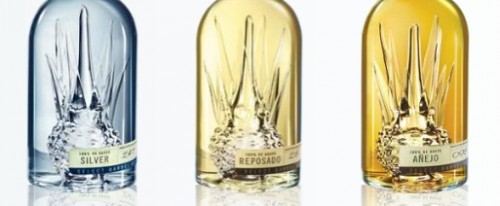 ---
† The product reviewed here was provided to me as a free sample. If you're wondering what that means check out my sample policy.