Posted by Reese
on 2011-11-01 @ 04:17pm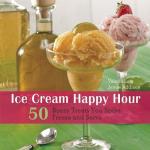 Do you like ice cream?  Since you're human, I'm going to bet yes.  And, since you're reading my blog I think it's safe to also assume you like booze.  So, friends, can you imagine the combination of the two?  Neither could I.  Mind you, I tried.  But my brain basically rebooted from joy every time I tried.  Salvation came in the form of Ice Cream Happy Hour, a new book from Valerie Lum and Jenise Addison.
The book is compilation of 50 recipes for ice creams, sorbets and sherbets.  There are boozy twists on the classics, like the one we chose Mint Chip with Creme de Menthe.  There are cocktail inspired recipes that definitely sound awesome.  Whiskey Sour ice cream, yes please!  And, to round it all out there are recipes for boozy sundaes, floats and the like.
The part I liked best about this book is that they break down the ice cream making process into distinct, simple steps.  I hadn't made ice cream before (despite having my own ice cream maker, go figure) and I found the recipe very easy to follow.  You will need an ice cream maker, but they're pretty easy to find and, if you don't want to buy one, I'm betting you have a friend who would gladly loan you theirs.  And, I can tell you, once you've had boozy ice cream, all others are just a little boring.
Mint Chip with Creme de Menthe
2 cups Milk
2 cups Heavy Cream
3/4 cup Sugar
4 Egg Yolks
2 tsp Mint Extract
3-4 drops Green Food Coloring
1 packet Gelatin
1/4 cup Cold Water
3/4 cup Cold Creme de Menthe
1 cup Chopped Chocolate
1) Scald the milk, cream and sugar
2) Whisk the egg yolks and temper with 1/3 of the milk mixture
3) Thicken the custard over low heat
4) Whisk in the mint extract and food coloring
5) Strain, cover and chill the custard for at least 8 hours
6) Dissolve the gelatin in the cold water
7) Melt the gelatin over low heat
8) Spike the custard with the cold creme de menthe
9) Churn the ice cream for at least 20 minutes
10) Fold in the chocolate 
---
† The product reviewed here was provided to me as a free sample. If you're wondering what that means check out my sample policy.