Posted by Reese
on 2011-03-29 @ 02:06pm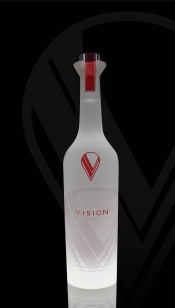 Some might say that the premium vodka boom is coming to an end making way for other trends like premium tequila and craft cocktails.  If my recent samples say anything, it's that this belief is completely untrue.  This week I'm offering up my review of Vision vodka.
The bottle design and labeling are very minimal and speak of its desired luxury status.  However, I have a gripe about their award winning bottle design.  The cork is a giant pain in the ass to get out.  Since it's sunken into the bottle and completely smooth you have a hard time getting a hold on it to get it out.  But enough whining, how about the vodka.
Distilled in Oregon from wheat, Vision vodka has a very clean flavor with subtle notes of grain.  The aftertaste is basically non-existent and I found it to have very little burn.  I'm chalking this up to their five-times (quintuple) filtering process.  Overall it's a tasty vodka.  Currently Vision is only available at bars and retailers in the NYC area or for order online.  A 750ml will set you back $30.
---
† The product reviewed here was provided to me as a free sample. If you're wondering what that means check out my sample policy.