So, I arrived in Columbus, GA earlier today and spent the rest of the day exploring the city and generally goofing off.  At some point mid-afternoon I decided I should make myself a cocktail in my hotel room tonight.  Being a simple recipe I decided on an Old Fashioned.  Now comes the interesting part.
I spent about an hour driving around the city looking for a liquor store so I could procure some bourbon for my creation.  Much easier said than done.  After driving for an hour I had only happened upon two stores, both of which looked too sketchy to warrant a stop.  I then headed to a grocery store to pick up the other necessary items.  After picking up Angostura Bitters, an orange and a waiter's corkscrew (for the foil cutter/knife) I finally broke down and asked the locals.  One was able to direct me to an out of the way store a couple blocks away.  It was at the far end of a strip mall and appropriately titled "Hidden Lake Bottle Shop".  There I was able to score a small (200ml) bottle of Bulleit Bourbon.
These items procured I was nearly to my goal.  I still needed sugar, easy enough "borrowed" from the restaurant at which we had dinner.  I also decided I needed a spoon to stir the concoction.  The spoons at the restaurant were about ten inches long so some reason unknown to me, so I opted to ask for one at the hotel.  The results of all my collection efforts was a quite nice cocktail.  I simply combined about two teaspoons of water with two packets of sugar and three dashes of the bitters.  I then stirred this until the sugar was fully dissolved.  Next I added about two ounces of the bourbon and some ice and stirred until nicely chilled.  Topped it all off with a strip of orange zest that I squeezed the oil out of and I was ready to enjoy.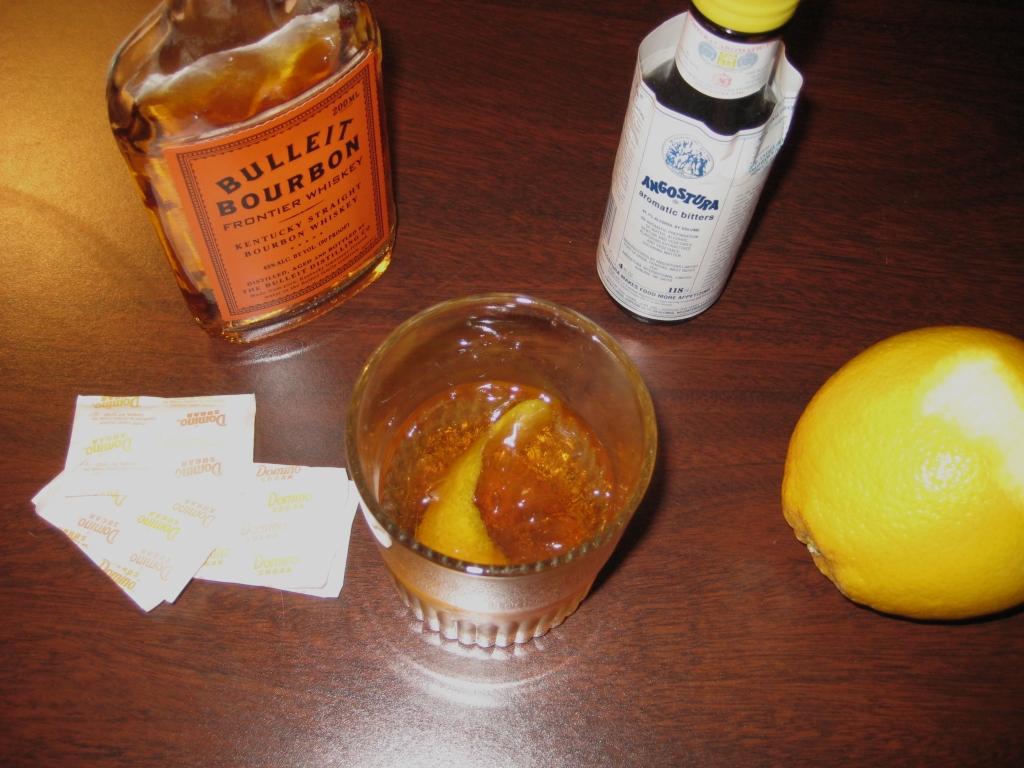 The next time I travel I think I'll prepare a travel cocktail kit to make things a little simpler.  Here's what I'm thinking will be included:
Small Dropper Bottles of Bitters
Knife (Folding)
Spoon (Or Maybe a Titanium Spork for the Geek Points)
Spirits (For Areas Where Procurement May Be Difficult)
Sugar (Possibly, This is Pretty Easy to Come By)
Any other suggestions?
Comments Off

on Cocktail Hacking on the Road